Conference Information
DETAILED SCHEDULE*
Entire conference schedule is set for EASTERN STANDARD TIME *The main time frames (in bold) will remain the stable. But the specific class times within may change, based on logistical interactions and Holy Spirit's leading.
Pre-Conference Video Replay
THURSDAY, MARCH 9, 2023
Anytime Pass and Anytime Pass Zoom Recording
Those who will have signed up for the Anytime Pass will be sent an email with the access link for all pre-recorded classes. Access granted at 9:00AM EST and closes March 9, 2024 (1 year later).
Zoom recordings from Friday-Sunday (for Anytime Pass holders) will be given a day or two after the live sessions (but probably sooner).
'Don't have the Anytime Pass? CLICK HERE to purchase.
FRIDAY, MARCH 10, 2023
EASTERN STANDARD TIME (Live on Zoom and Live In-Person)
8:45 - 9:00 - Sign In or Sign On
9:00 - 9:45 - Artistic Worship
9:45 - 10:00 - Welcome
10:00 - 10:15 - Weapons of Warfare/Movements of Breakthrough!
10:15 -10:30- Expressive Worship & Sign w/Flag Vocabulary
10:30 - 10:45 - Break
10:45 - 11:15 - Expressive Sign Activations
11:15 - 12:00 - Active Word Study
12:00 - 1:30 - Lunch Break
1:30 - 2:15 - Creative Worship
2:15 - 3:00 - Billow Cloth Beauty
3:00 - 3:15 - Break
3:15 - 5:00 - Prophetic Dance and Final Blessing
5:00 - 6:30 - Dinner Break
6:30 - 6:45 - Worship Freely
6:45 - 8:00* - Message by Pastor Wil Bozeman, followed by Artistic Ministry
*Evening session may end earlier, based on length of message and ministry, but should not go later than 8:00.
Zoom recordings of all sessions only come with the Anytime Pass.
SATURDAY, MARCH 11, 2023
EASTERN STANDARD TIME (Live on Zoom and Live In-Person)
8:45 - 9:00 - Sign In or Sign On
9:00 - 9:30 - Artistic Worship
9:30 - 9:45 - Welcome/Sharing Testimonies from Conference Experience (thus far)
9:45 - 10:15 - Unity in Motion/The Corporate Move
10:15 - 10:30 - Break
10:30 - 12:00 - Modern/Contemporary Dance Class
Stretch and Adoration
Worship Dance Choreography (Phrase)
12:00 - 1:30 - Lunch Break
1:30 - 2:00 - Team Terrificus
2:00 - 2:45 - Choreography/Presentation Tips, Techniques, Dos and Don'ts
2:45 - 3:15 - Worship Expressions
3:15 - 3:30 - Break
3:30 - 4:15 - Dance Composition
4:15 - 4:45 - Purposeful Pageantry
4:45 - 5:00 - Final Breakthrough!
5:00 - 6:30 - Dinner Break
6:30 - 8:00* - Participant's Concert-Once on that page, scroll down to 'Participants' Dance Concert (for detailed information).
*Evening concert may end later for in person locations, based on the number of dances scheduled after the Zoom is shut off. But the online concert should probably not go later than 8:00.

After Zoom in your location shuts off, the local host will not be responsible for video taping the remaining dances. You are more than welcome to have someone record you (on your phone) while you dance. You are also welcome to record the rest of the concert on your own.
Note: We ask that you please do not record any of the teachings that you see on the screen, as they will be available with the Anytime pass; and/or the information is taught in greater depth in the related books and videos. Thank you.

Zoom recordings of all sessions only come with the Anytime Pass.
SUNDAY, MARCH 12, 2023
EASTERN STANDARD TIME (Live on Zoom and Anytime Pass Zoom Recording)
SPECIAL SUNDAY AM SERVICE ZOOM LINK
https://us06web.zoom.us/j/365994002
9:15 - 9:30 - Sign in/Welcome
9:30 - 10:00 - Artistic Worship
10:00 - 11:00ish - Teaching from the Word, followed by Artistic Ministry
11:00 - 11:30ish - Your questions/comments on the teaching, followed by Holy Communion
11:30 - 12:00ish - Recording turned off for prayer requests
Recent teachings of the Word (from our Online Home Fellowship) may be found on its special Facebook page.
Live Online - Please try to be there with your screen on as much as possible. We want to see your beautiful face:) Remember, it is a very comfortable, casual atmosphere, so you can relax and enjoy. 'Can't wait!!
PRODUCT SALE PRICES AND LINKS
Conference special pricing only good through March 12th (midnight EST)
The links above lead to specific DVDs that relate to what we will be doing.
Here is the complete listing of what is available at greatly reduced prices:
DFH INSTRUCTIONAL DVDS - 50% off (Discs Only) from now through midnight 3/12- Use Discount Code: DVD50OFF upon checkout.
DFH INSTRUCTIONAL VIDEOS - 30% off (Digital Downloads Only) from now through midnight 3/12- Use Discount Code: VIDEOSALE upon checkout.
DFH BOOKS - 15% off (Regular and E-Books) from now through midnight 3/12 - Use Discount Code: BOOKSALE upon checkout.
You'll notice that many of the DFH Books have a corresponding video. Also, several of the videos have multiple versions (Expressive I and II, for example).
PASTOR WIL'S BOOKS - 40% off (Regular and E-Books) from now through midnight 3/12 - Use Discount Code: WSA40OFF upon checkout.
Products on sale now (no code needed):
HAND DYED SILK FLAGS (Set of 2) Regular Size (34X44) - Normally $98 Now - $84
Since this video, I had sold out of Fire flags and a couple others. So, I ordered a new shipment of flags that should be here by the conference!
Fire
Healing
Heart of Passion (Red/violet/navy)
HAND DYED SILK VEILS - Normally $98 Now - $79
BILLOW BANNERS - Tissue Lame (5 Yards) - Normally $53 Now - $44
SILK BILLOW BANNERS Hand Dyed (5 Yards) - Normally $85 Now - $69
You may order any flag set or veils in colors shown or create your own color combo (2-3 colors work best). Order in links above.
DFH T-SHIRTS - S-XL $16; 2XL $19; 3XL $20; 4XL $21; 5XL $22
I showed some of these items during the pre-conference meeting and will also show again during the conference. I'll also show you some of the items (mostly books and DVDs) after that particular subject will have been taught.

I hope you will take advantage of the especially low prices. Some DVD titles are nearly sold out. First come first served. Once they are gone, they will be no more:)


Also, it would be nice to have some of the books and DVDs to study before the conference. You may order as late as 2 weeks before the conference, to receive T-shirts, books and DVDs before the conference (within US boarders).

Flags, veils and silk billow orders for items not shown or not in stock, will take about 2-4 weeks.

I do have some on hand that can go out right away. Watch pre-conference video or see during the conference.
CONFERENCE ACTIVATION NOTES
This page will only be available through the end of the conference. Most of these notes are contained (along with so much more) in their respective corresponding book or video.
WEAPONS OF WARFARE/MOVEMENTS OF BREAKTHROUGH
SCRIPTURES
Out of the mouth of babes and nursing infants, You have [

a

]ordained strength, Because of Your enemies, That You may silence the enemy and the avenger.

Psalm 8:2 NKJV
Let the high praises of God be in their mouth, And a two-edged sword in their hand, To execute vengeance on the nations, And punishments on the peoples; To bind their kings with chains, And their nobles with fetters of iron; To execute on them the written judgment— This honor have all His saints. Psalm 149:6-9 NKJV
For the weapons of our warfare are not [

a

]carnal but mighty in God for pulling down strongholds, 5 casting down arguments and every high thing that exalts itself against the knowledge of God, bringing every thought into captivity to the obedience of Christ,

2 Corinthians 10:4-5 NKJV
Finally, my brethren, be strong in the Lord and in the power of His might. 11 Put on the whole armor of God, that you may be able to stand against the [

a

]wiles of the devil. 12 For we do not wrestle against flesh and blood, but against principalities, against powers, against the rulers of [

b

]the darkness of this age, against spiritual hosts of wickedness in the heavenly places. 13 Therefore take up the whole armor of God, that you may be able to withstand in the evil day, and having done all, to stand. Ephesians 6:10-13 NKJV
EXPRESSIVE WORSHIP AND SIGN
For the Expressive Sign/Flag Vocabulary part of the conference, I'm going to be teaching some movements to words found in common worship songs. After you learn them, we'll be doing an 'activation' (learn by doing an activity) to sort of put it together creatively.
Here is a list of pairs of words (reading from left to right). You'll be moving with the people that have the word across from your word.
Example: Desire will move with Sing; Worthy will move with Praise and so on… I'll explain the activation after showing you the movements.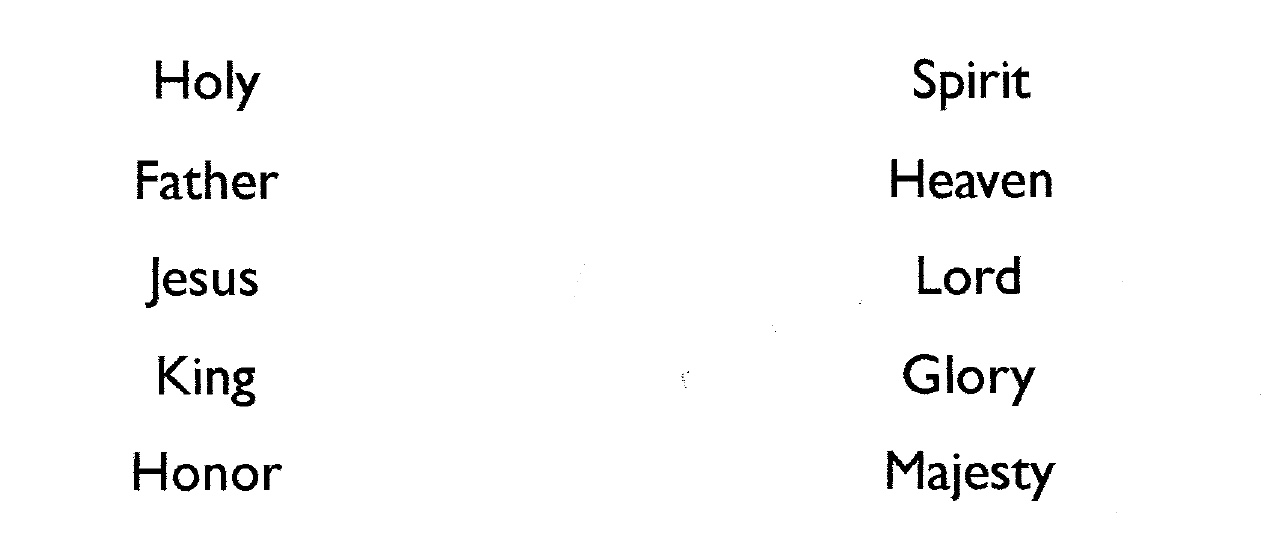 We will break up into Zoom Breakout rooms. Each room or group will be assigned a pair of words like this:
GROUP/ROOM 1 - HOLY/SPIRIT
GROUP/ROOM 2 - FATHER/HEAVEN
GROUP/ROOM 3 - JESUS/LORD
GROUP/ROOM 4 - KING/GLORY
GROUP/ROOM 5 - HONOR/MAJESTY
You'll have about 10 minutes to work together with these particular words. I will give specific instructions during the conference. It will be a fun way to creatively learn some expressive movements!
If time, extra words:
Desire/Sing
Worthy/Praise
Peace/Bless
Fire/Hallelujah
Lamb/Blood
Love/Name
ACTIVE WORD STUDY
We will be breaking up into groups (Zoom will randomly pick) and you'll go into the respective breakout rooms. This is a fun way to learn where dance is in the Bible and why we dance before the Lord! We will do at least the first 3-5 words, but should time allow, possibly more.
This conference activation sheet shows a very small excerpt taken from the Dance, Dance, Dance book and it is also shown on the Dance, Dance, Dance video.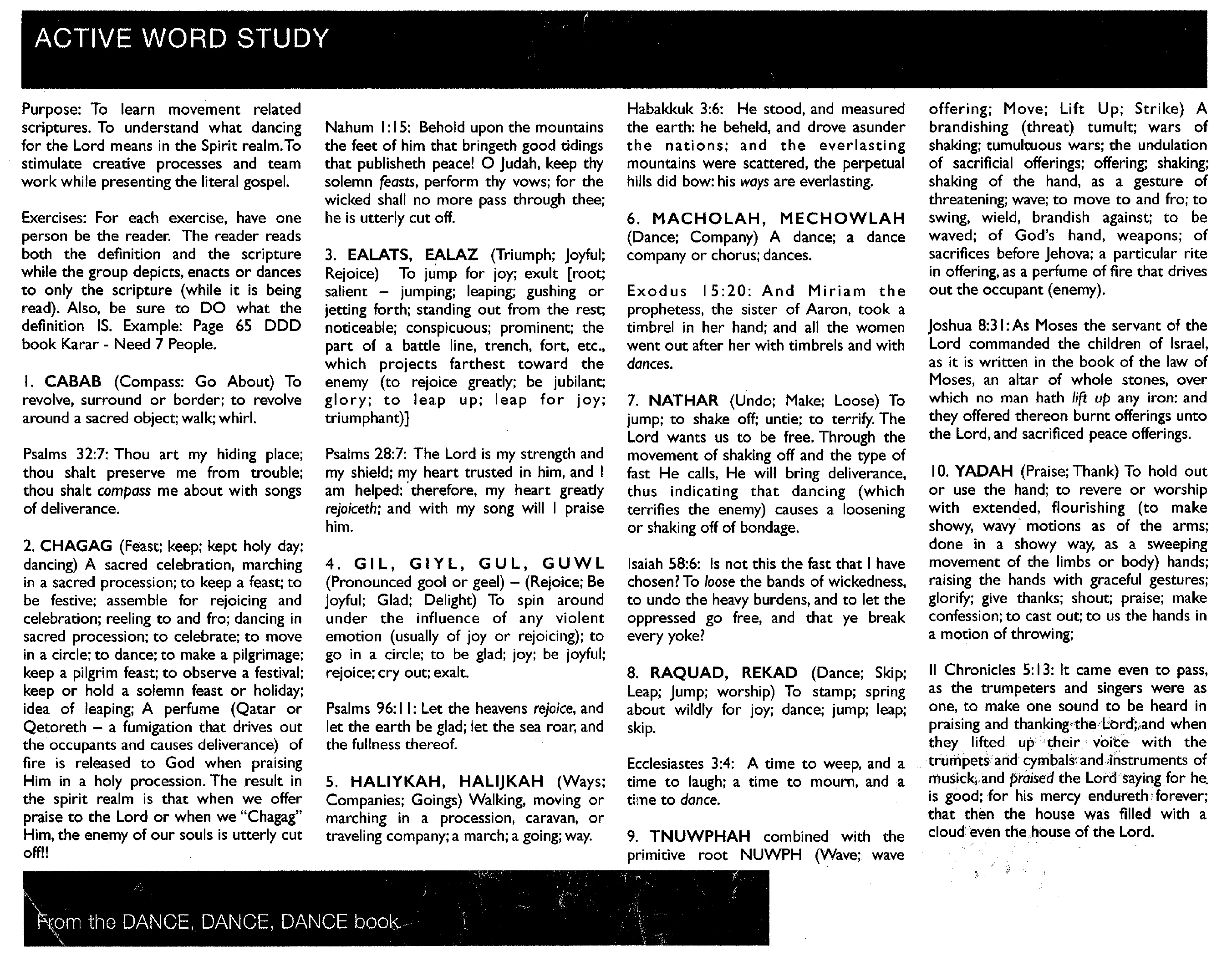 CREATIVE WORSHIP
Mirror & Echoes
Planned Spontaneity
Group Shapes
NSEW
Body Sculpting
Unison in Movement
Background/Foreground
These topics are discussed in much greater detail in the Creative Worship Book and Video.
TEAM TIPS
From the Team Terrificus book and the Called to Dance Video
Team: A group of people working together in a coordinated effort; to join in a cooperative activity; people who individually subordinate personal aspirations and work in a coordinated effort with other members of a group, or team, in striving for a common goal.
Love
An undefeatable benevolence and unconquerable goodwill that always seeks the highest good of the other person, no matter what he does.
1. Be willing to be spontaneous. Have spiritual acumen (sharpness, or quickness of understanding). During praise and worship, be aware of what is going on around you naturally and spiritually. Leaders—listen to the Spirit of God for changes in the service. Watch for directions from the leadership and worship director. Members—watch for the dance leader's directives. Be aware and on top of any changes the leader may give you.
Joy
Rejoice, be glad, be joyful. To spin around with intense motion. Dancing or leaping for joy.
2. Don't get upset when you are chosen to do "just flags" or "just cloths." It may be a test of your character, or the leader may need more experienced people to make sure that the flag part is done at the right time with good timing. It may be that the flag part is the most important part in the dance.
Peace
Completeness, wholeness, health, welfare, safety, soundness, tranquility, prosperity, fullness, rest, harmony; the absence of agitation or discord.
3. Dance members, try to avoid helping too much. Let the leader work through the choreography. Sometimes it takes development and time. If you do make suggestions, be mindful of how they are presented. Perhaps seeing the leader after practice would be good.
Patience
Long suffering, lenience, forbearance, fortitude, patient endurance, the ability to endure persecution and ill-treatment. It describes a person who has the power to exercise revenge but instead exercises restraint.
4. Don't strive for position or leadership. When it's obvious that you are striving for it, that is a sure sign to leadership that you are not ready for it. Be humble and submissive and serve genuinely. Be faithful in the little things (set up, clean up, etc.) with a loving attitude and eventually, (through patient endurance) you will be raised up. Check your heart motivation.
CHOREOGRAPHY AND PRESENTATION DOS AND DON'TS
From the Divine Choreography Book and the Dance Composition Video
Don't Just walk on stage haphazardly (cutting up and not standing in ready position).

Do Enter in an orderly, reverent manner. Be well rehearsed.
Don't Make people wait a long time while you get to the platform.

Do Be ready to go, so service runs smoothly.
Don't Show impatience with the sound man (rolling of the eyes, using hand motions to move him along more quickly, Etc.). Do Have patience with the sound person. While waiting for music to begin, hold your position.
Don't Have a sloppy appearance. Do Have a nice neat appearance with uniformity in dress. Everyone in the dance should have either ballet shoes or bare feet (not some in shoes and some, not).

Don't Adjust costume, fix hair, or rub eyes, especially while you are waiting in place for the music to begin, as the congregation's eyes head straight for your movement (however small and insignificant it may seem).

Do Make sure your costume is situated before you go on. If a part of the costume should fall off, make the best of it as if it never happened, and the congregation will soon forget there was a problem.

Don't Chew gum!! It's distracting and hazardous to your health (should you jump and choke on it). Do Smile from your heart.

Don't Sing when doing a presentation dance. The congregation will look directly at the person who is singing and may miss the message of the dance. Do Know the song and sing it in your heart.

Don't Goof and let your face show it, or fix your mistakes in the middle of them. Generally, the congregation will never know you made a mistake unless you tell them with your expression of dismay or by obvious corrections. Do Keep moving and smiling as if nothing had happened.
Don't Do a solo with more then one person. In other words, having two or more people doing all the same movements all at the same time, all the same way, in the same direction. That is boring. Do Vary your movements.

Don't Have a sloppy ending. The ending's value is about almost fifty percent of the dance. The audience wants emotional satisfaction. Do Practice the ending of the dance. It is very important because it is the last thing the congregation remembers! Be sure to work on it extensively as the viewers may forgive and forget mistakes in the beginning and middle if the ending is good.

Don't Exit by: just walking off and talking to each other; finding your seat; or maybe waving to someone in the congregation, Etc. It's a good idea to exit while they are still clapping, as it is rather anticlimactic to exit while the church is ready to move on to other things and they're just waiting for you to get out of the way. Do Plan your exit. Have uniformity and order. Maintain an attitude of worship until you are out of sight.
DANCE COMPOSITION
From the Divine Choreography Book and the Dance Composition Video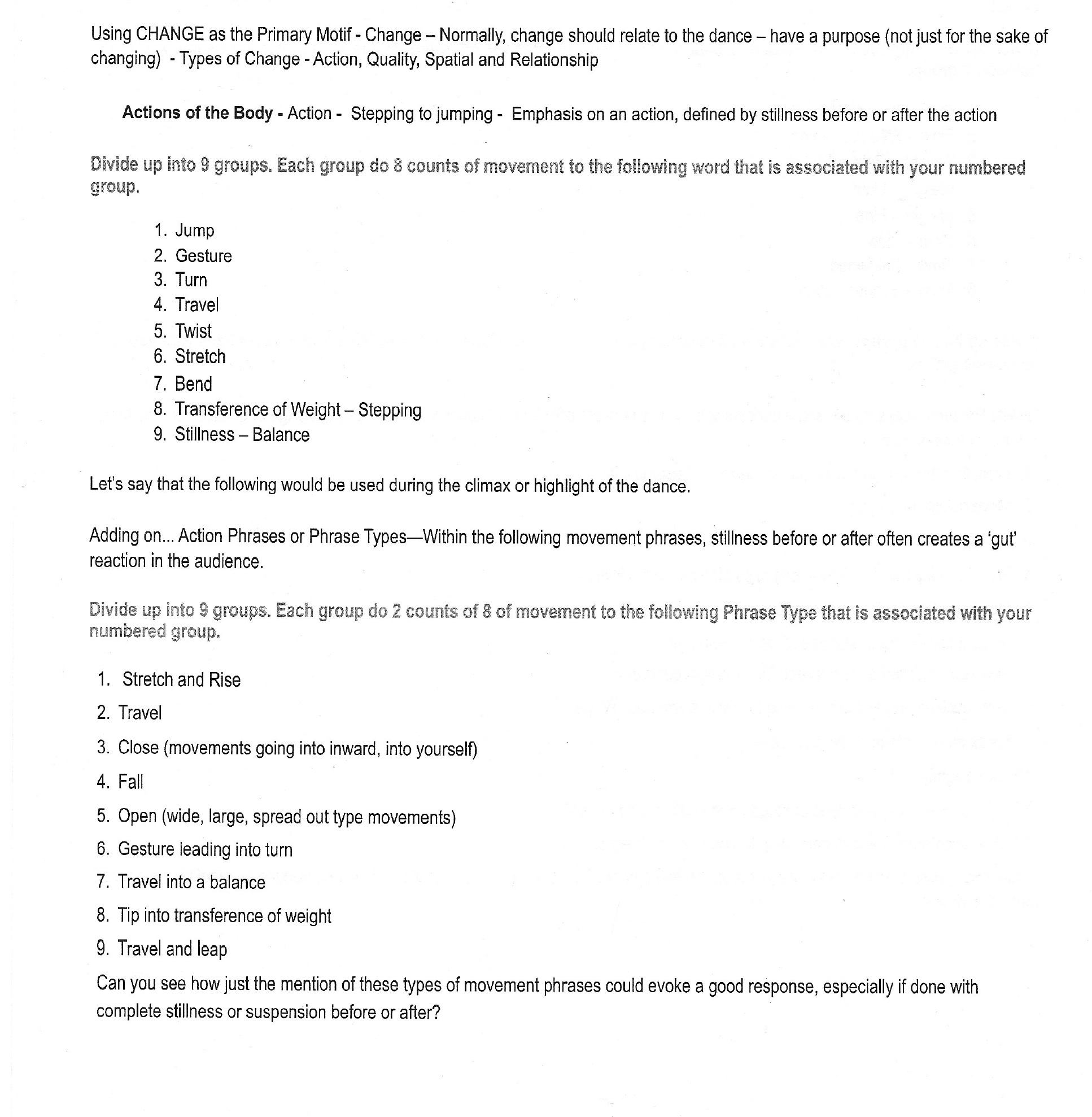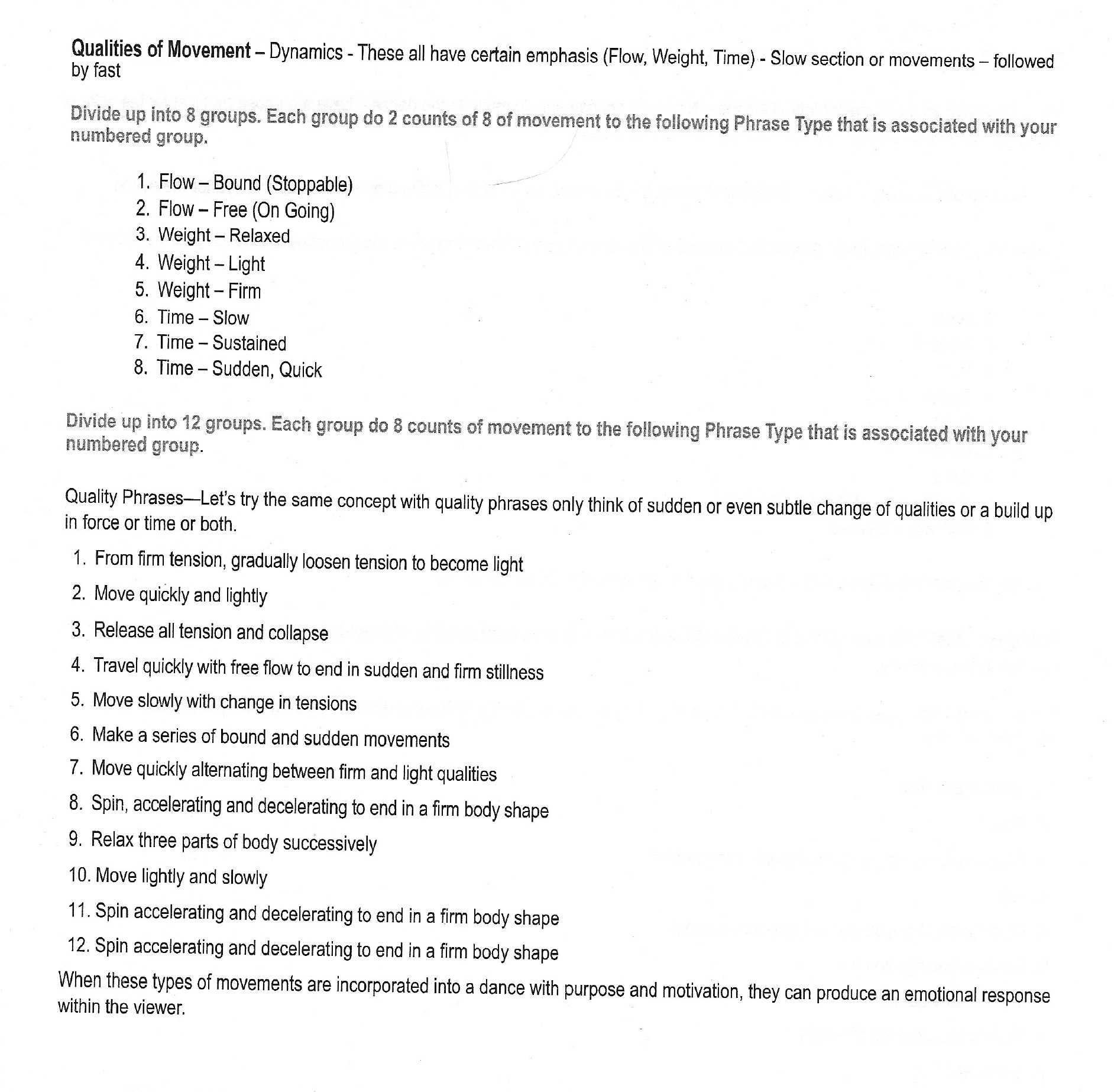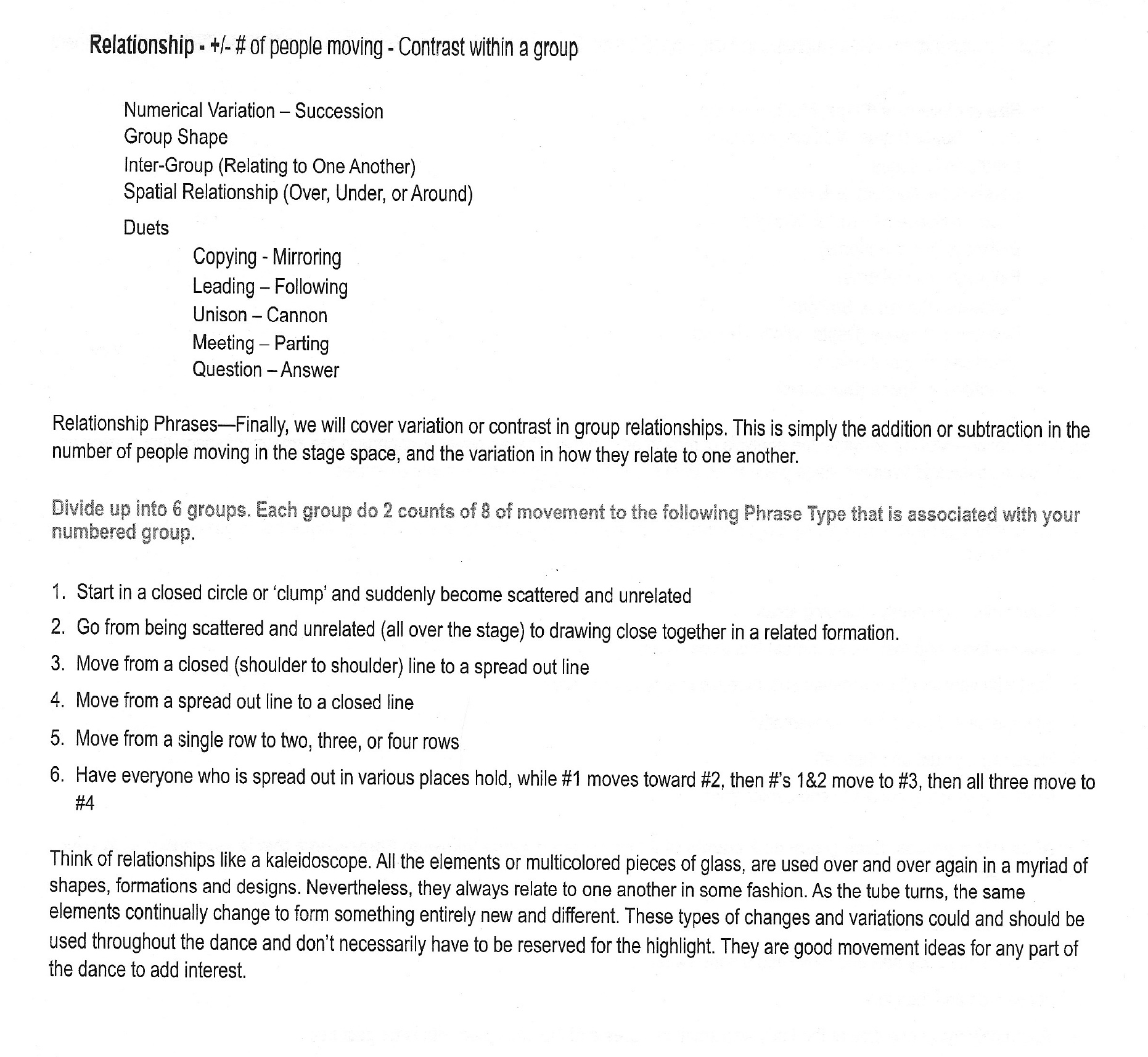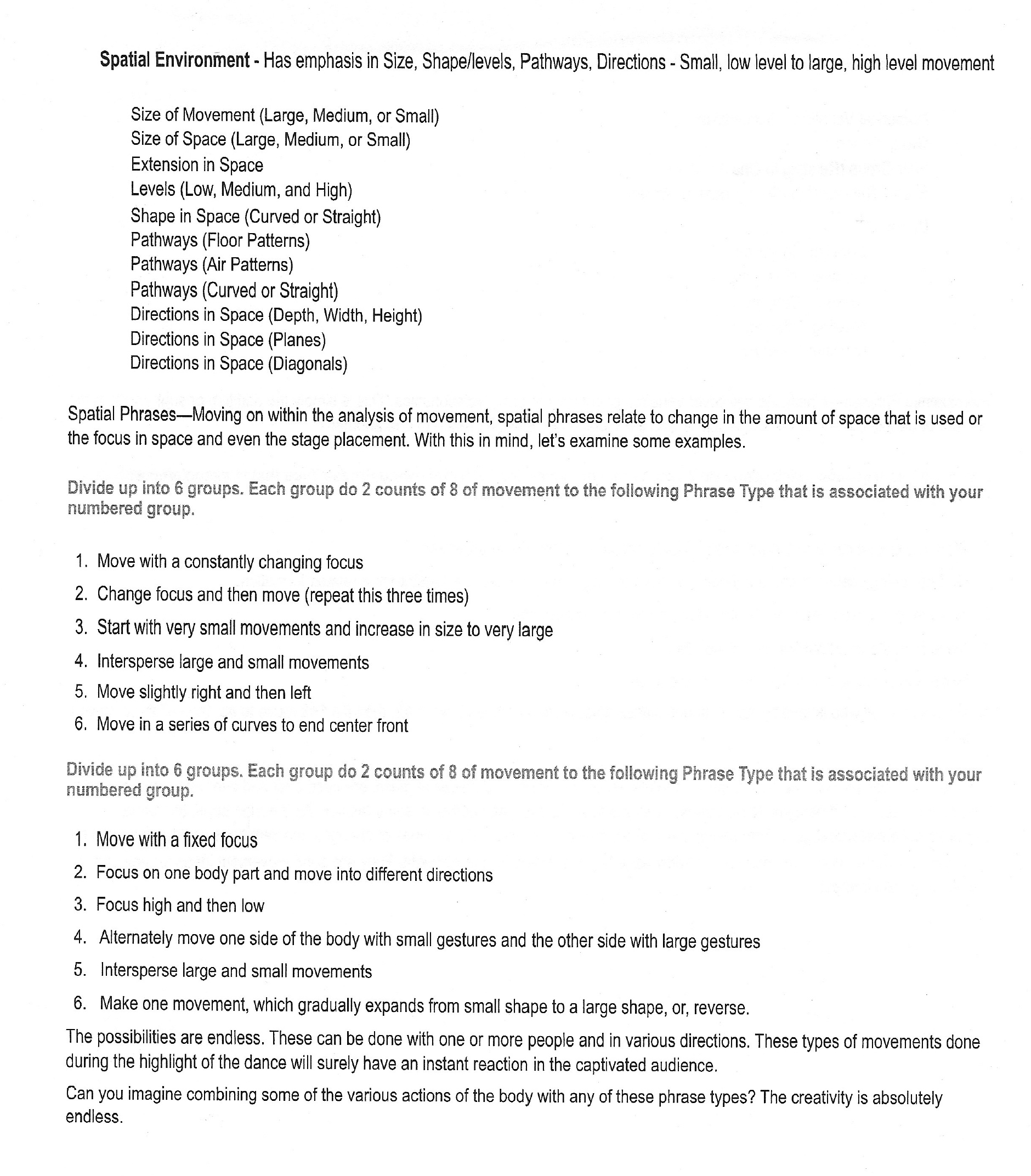 WORSHIP EXPRESSIONS
This and much more are shown in the Worship Expressions and the Solo Dancer Video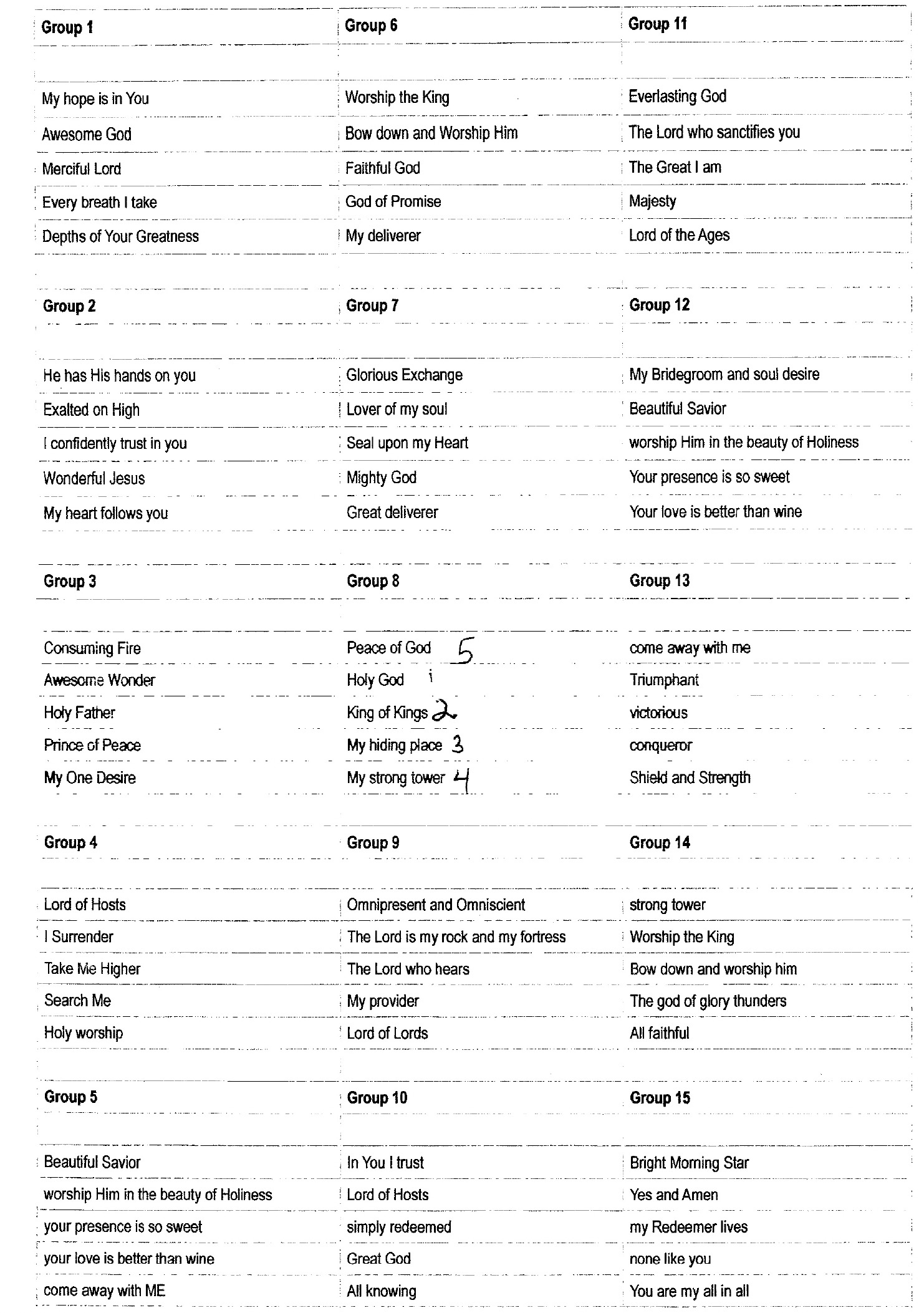 PURPOSEFUL PAGEANTRY
From PROCESSIONALS, PROPS and PAGEANTRY book and the PERFUME OF FIRE VIDEO
BANNER nacac (naw-sas') To gleam from afar; to be conspicuous as a signal; to raise a beacon; lift up as an ensign. A flag, ensign, streamer, or emblem attached to the end of a standard. Banners served as rallying points for military, national or religious purposes. Any figure or object (flag or banner) used as an emblem or symbol of a leader or people, military unit, or ensign of war. A piece of cloth bearing a design, motto, slogan, etc. Sometimes attached to a staff and used as a battle standard.
SIGNAL/COMMUNICATION/PROCLAMATION
Is. 5:26 – He will lift up a banner to nations from afar, and will whistle to them from the end of the earth; surely they shall come with speed, swiftly. The most common use of banners was for military campaigns.
A large flag usually was raised on a hill or other high, visible place. It served as a signal for the war trumpets to be blown. In this case, God's judgement on Israel and Judah was set into action by calling on a foreign nation to bring retribution (punishment that is considered to be morally right and fully deserved). Banners declared communication and signaled or attracted attention so people could get involved in what ever was to take place next. Like a catalyst for drawing people together for orders, plans, news or action.
IDENTIFICATION
Jeremiah 4:5-6 – Declare in Judah and proclaim in Jerusalem, and say: "Blow the trumpet in the land; Cry, gather together, and say assemble yourselves, and let us go into the fortified cities. Vs. 6 Set up the standard (banner) toward Zion. Take refuge! Do not delay! For I will bring disaster from the north, and great destruction."
A flag on a pole signaled danger and a place for assembly. This is the type, model, or example to which there is general acceptance or adherence. Soldiers always carried their identifying flag with them into battle, so if someone got off on their own, or got lost, they could look up and see their banner of safety. They could then re-set their course appropriately. The Lord our Banner represents hope and safety in the midst of personal battles.
3. WARFARE/VICTORY IN BATTLE
Ps. 20:4-5 – May He grant you according to your heart's desire, and fulfill all your purpose. Vs. 5 We will rejoice in your salvation and in the name of our God we will set up our banners! May the Lord fulfill all your petitions.
They set up banners in the name of God during a time of intercession for the ones going to war. It was like a prophetic proclamation of triumph and a trophy in His honor. This type of demonstrative proclamation is conspicuous and flaunts victory in the enemy's face. They waved banners to Celebrate victory won and answered prayers!
JESUS/TRUTH
John 12:32 – "And I, if I am lifted (crucified) up from the earth, will draw all peoples to Myself"
Lifting Jesus (like a redemptive streamer or gathering place for healing) on the cross (standard) demonstrates God's presence in the midst of His people. This sign (ensign) of Truth, visible from all around, directed His people to salvation and God's will.
PERSONAL/MODERN

DAY/CHURCH
Psalm 74:4-5,8 – Your enemies roar in the midst of Your meeting place; they set up their banners for signs. Vs. 5 They seem like men who lift up axes among the thick trees Vs. 8 They said in their hearts, "Let us destroy them altogether."
The enemy's camp has standards too. He will attempt to destroy the lives of the congregation right in the middle of the meeting place (the church). This is even more reasoning to wave banners in defiance of his tactics and for the defeat of his camp.
BECOMING

A

LIVING

BANNER
Isaiah 62:10 – Go through, go on through the gates, clear the way for the people! Build up a highway, build it up. Clear away the stones. Raise a Banner for the peoples.
After they followed the directions given by the Lord, He then commanded them to prepare the way for the people, one example of which was to lift up banners for them.We can see the significant and prolific use of banners throughout the Word. Should it not stand to reason that we be able to use flags and banners as part of our worship to the Lord and as warfare against the enemy? Should we not be able to disturb the airways against the principalities to gain victory for our God? Let us then lift His banner high over our circumstances and wave!