About Us
---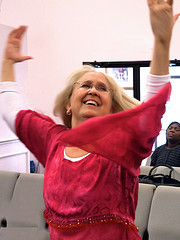 Founded in 1996 by Lynn Hayden, Dancing for Him Ministries is a Spirit Filled, Biblically based organization whose primary purpose is to minister to the body of Christ the heart of God through creative expressions of worship, prophesy and dance. Lynn is a minister of the Gospel of Jesus Christ and travels extensively to visually demonstrate the Word. Many lives have been touched and changed by this unique, ministry. It is much more then just learning how to dance. Lynn utilizes the Prophetic arts as a means by which to minister the heart of God.
Lynn is a well-known author of eight books on praise dance, and producer of over twenty-two worship dance, praise dance and prophetic dance DVD's. Lynn assisted the choreographer and danced in Integrity Hosanna's music video "Sing Out" with Ron Kenoly; and was on the teaching staff at Christian International's Arts Conferences for several years.
DANCE EXPERIENCE
As founder of DFH, Lynn (approaching nearly 50 years of dance experience) has dedicated all her ballet, modern, jazz, and choreography technique to the Lord for His glory. Lynn has performed with the Towson State University Dance Company, and the Ballet Theatre of Annapolis (now known as the Ballet Theatre of Maryland) and has been ministering, for the Lord, through dance, since 1986.
CONFERENCES
Lynn orchestrates, ministers and instructs during worship dance workshops, conferences and weeklong intensives around the world. During these Spirit inspired events, there is an activation and impartation of an unparalleled style of praise dance. In addition, she makes herself available for speaking engagements, both nationally, and internationally, as the Lord directs.
COMMUNITY TEACHING AND EVENTS
Unity in the body of Christ was strengthened throughout the years as Lynn choreographed and coordinated dances for inter-denominational, multi-city events and marches, consulted local dance teams and leaders, has held weekly Worship Through Movement dance classes, and Ballet For Him ballet classes. Lynn has a teaching style that is challenging for all skill levels, and inspires the participants of her praise dance workshops, classes, books, and worship dance videos to new levels of worship and gospel presentation through the dance.
WHAT OTHERS SAY ABOUT LYNN
"Lynn, you were always supportive and encouraging. You never made me feel less then, but gently kept helping me in every way. You gave yourself away unselfishly and taught me to do the same. I've tried to follow your example as a dance leader, because you've been my role model." Paula Strubel ~ Sarasota, FL
"It was a blessing to have you here. When you were ministering, the presence of the Lord came upon me powerfully. I cried so hard that I thought I was going to scream like a baby. The Lord spoke to me... I feel as though a heavy burden has been lifted from my shoulders. Thank you for the sacrifices you made to come to Connecticut." Barbara Casagrande ~ Oxford, CT
Lynn is a gifted leader of leaders. Many people mentored by Lynn, over the years, have gone on to now have their own dance teams and some of them hold workshops, themselves.
There is a unique ability to lead large groups and congregations in corporate worship dance and presentations. Lynn also ministers in dance directly to the congregation with an anointing that breaks the yoke of bondage, heals and delivers!
Lynn is ordained by and has ministerial covering through The Covenant Center with Pastors Richard and Rebecca Maisenbacher.