Open the Floodgates of Heaven

-

Worship Dance Conference

-

Kingsville, TX

-

October 5-6, 2018
Open the Floodgates of Heaven
October 5, 2018 to October 6, 2018
A Dancing For Him Worship Dance Conference
Hosted by:
Grace N Mercy Dance Ministry
The Breath of Life Church
Pastor Marcos and (his Mother) Pastora Alma Barrientes
Kingsville, TX
Video from a previous DFH conference...
You heavens above, rain down my righteousness; let the clouds shower it down. Let the earth open wide, let salvation spring up, let righteousness flourish with it; I, the LORD, have created it. Isaiah 45:8 NIV
Sow for yourselves righteousness; Reap in mercy; Break up your fallow (or unplowed, unproductive) ground For it is time to seek the Lord, Till He comes and rains righteousness on you. Hosea 10:12

I will make them and the places all around My hill a blessing; and I will cause showers to come down in their season; there shall be showers of blessing. Ezekiel 34:26

Therefore, I urge you, brothers and sisters, in view of God's mercy, to offer your bodies as a living sacrifice, holy and pleasing to God-this is your true and proper worship. Romans 12:1 NIV
---
While Pastor Lynn will not be present at this conference, she is very proud to send one of her very anointed and qualified graduates from the Dancing For Him Ministries Online School.
Tanya Lisa Perez has been ministering through dance for 17 years. She was an assistant dance leader at her local church from 2001-2005 in Mission, TX. She has taught at a variety of local workshops and has helped with training local church members in the art of worship dance. She has choreographed for several dance groups as well as church sponsored plays. She is currently the leader of the dance team at Legacy Church in San Antonio, TX and has choreographed dances for church and community events.
Tanya currently works as a full time pediatric Occupational therapist at a local home health agency. She also serves as a seasonal dance teacher and choreographer for a non-profit organization that provides sports, recreational, and educational programs to children with special needs. She has a certification as a Rhythm Works Integrative Dance Instructor.
Her ministry is called Empowered to Praise providing training to empower those who have a heart to worship the Lord through dance. She has completed the Worship Dance Teacher's Training course and Dance Ministry Leadership Course and holds a certificate of license and ordination through Dancing For Him Ministries.
---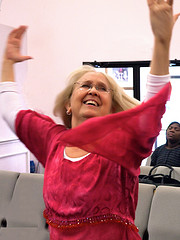 Come, let us experience this deep place of worship where life-changes happen. We will see a transformation not only in our dance, but in our selves...Come, let us worship Him together. Then go home not only with fresh ideas, but changed...
Pastor Lynn M. Hayden
- Founder, Dancing For Him Ministries
Would you love to learn many aspects and concepts of worship/expressive dance?
Would you love to learn some fresh movement and choreography ideas?
Would you love to receive ministry through and be activated in prophetic dance?
Then this conference is for you!
Conference Information
Subjects Covered
Come, receive prophetic dance ministry, get renewed and refreshed. Come and let God transform your life! Subjects include:
Bible Live! - Moving Scripture Study
Worship Expressions
Billow Cloth Beauty
Purposeful Pageantry (Flags)
Creative Worship
Expressive Worship & Sign
Artistic Worship/Ministry
Weapons Of Warfare/Movements of Breakthrough
Stretch & Adoration
Modern/Contemporary Dance
Team Resolve/Fruit of the Spirit
Choreography Technique/Creative Concepts
Learn Parts of at Least One Reproducible Dance
Dance Composition/Movement Analysis
Prophetic Dance/Ministry
Participants' Concert
and More...
Click here to read more about the various classes
Please note: Although we encourage entire teams to come, individuals are more than welcome to come by themselves. So, you do not have to be a member of a team to attend.
All classes will be in the same room.
Basic Schedule
An E-Handout PDF with a specific schedule will be given to all pre-registered participants.
Friday
8:00 - Artistic Worship/Welcome
9-12 - Classes
12-1:30 - Lunch Break (on your own)
1:30-5 - Classes/Ministry
5-7 - Dinner Break (on your own)
7-8:30 - Artistic Worship & Ministry
Saturday
8:00 - Artistic Worship
9-12 - Classes
12-1:30 - Lunch Break (on your own)
1:30-5 - Classes/Ministry
5-7 - Dinner Break (on your own)
7-8:30 - Participants' Concert (see below to sign up your team's presentation)
*Depending on number of registrants, we may shift to the Alternate Schedule
Alternate Schedule
If we have less than 50 participants/registrants by the early savings date, we may possibly changeover to this alternate schedule. If so, registrants will be notified and sent the electronic handout PDF via email.
PLEASE NOTE: The Friday night concert/ministry may go longer than 8:30PM, depending on the number of dances being presented.
Friday
8:00 - Artistic Worship/Welcome
9-12 - Classes
12-1:30 - Lunch Break (on your own)
1:30-5 - Classes
5-6:30 - Dinner Break (on your own)
7:00-8:30 - Participants' Concert/Artistic Ministry*
Saturday
8:00 - Artistic Worship or Artistic Ministry/Sharing
9-12 - Classes
12-1:30 - Lunch Break (on your own)
1:30-5 - Classes/Final Breakthrough!
Concert
The participants' concert is always a highlight of a conference. It is where you get to present a dance that you or your group will have already done at your church and share your gift with the other participants.
Space for participation in the concert is limited to the first 12 individuals, groups, or teams who desire to be in it and are fully registered.
What To Wear/Bring
Comfortable, casual, modest clothing for active movement. Dance shoes (ballet or jazz) or socks or bare feet would be good for the actual dance classes and choreography. However, it would be advisable to wear or bring comfortable supportive shoes for long days on our feet.
Water bottle with tight fitting lid (no other food or beverage allowed in the hall).
Flags and other worship instruments. There is plenty of room to move and express! If you don't have any flags to bring, don't worry, there will be others to borrow. If you do have extras, please bring them so that those who do not have any may use them. Thanks.
You may want a light jacket or sweatshirt for the restaurants and/or air conditioning.
The DFH product table will be there with all the products at lower-than-bookstore conference prices. There will be a 'special reduced price surprise' on a one of every DFH product package. Also, some of the music that will be used during the workshop may be available for sale. So you'll want to bring MC, Visa, AM Express, Discover cards, cash or checks with you to the hall. You'll want to take advantage of the opportunity to enhance your worship dance resource library.
Absolutely NO video taping allowed during the conference. Most of the teaching and dances will be available at the product table. However, you are welcome to take photographs.
On rare occasions, we'll have Dancing For Him T-Shirts or garments available for sale. If we do, we'd like to know your size preference. Please select a size in the T-Shirt/Garment Size drop down list on the particular check out page.
Local/Travel Information
The Breath of Life Church
1401 West Kenedy
Kingsville, TX 78363
361-219-9174
Contact Information
Conference Information:
Local Information:
Pastora Alma Barrientes
361-219-9174
Location Phone Number:
Cost
Includes admission to all the classes...
$73.00 - Individual - Received on or before April 5, 2018, 11:59PM (EDT) - EXTRA Early Savings Date
$86.00 - Individual - Received on or before September 5, 2018, 11:59PM (EDT) - Early Savings Date

Groups of 5 or more - $79.00 each**

$102.00 - Individual - Received on or before September 21, 2018, 11:59PM (EDT) - Regular Rate

Groups of 5 or more - $94.00 each**

$116.00 - Individual - Received on or before October 5, 2018, 11:59PM (EDT) - At The Door Rate

Groups of 5 or more - $109.00 each
See below for several ways to register.
Children
The conferences are primarily geared for adults. There will be no children's classes nor child care. Children under 12 are free. However EACH child under 12 must be accompanied by a fully registered, participating, responsible adult (18 or older). The child's parent/guardian must read and sign their waiver form or agree to it by electronic signature. Due to the largely ministerial nature of the conference and two very long days on our feet, we ask that you consider the attention span of your child before registering them. There will be no sideline mothers for any youth. Thank you.
Terms
The amount of registrations, offerings, support, etc., is absolutely non-refundable. Nor may it be applied to another conference, or transferred to another person. If for some unforeseen reason, regardless of the situation, you will be unable to attend, your tax-deductible registration will be considered a love gift/donation to further the work of God through Dancing For Him Ministries. Thank you. NO one-day rates available. We encourage you to attend the entire conference or as much of the conference as you are able.
Several Ways To Register
Thank you for your participation. May the blessings of the Lord overtake you...
We'll see you soon!!