CHUL, CHUWL, OR CHIL – (Anguish; Pain; Tra- vail; Troubled) To twist or whirl in a circular or spiral manner; to dance; to turn around; to dance in a circle; also to writhe in pain (as in childbirth); to bring forth; to travail; to be born. This is said to be one of the only words associated with movement and intercession.
Jeremiah 30:23: Behold, the whirlwind of the LORD goeth forth with fury, a continuing whirlwind: it shall fall with pain upon the head of the wicked.
In this new season, let us explore in greater depth the artistic ways we can glorify the Lord, as we worship artistically, move through intercession, receive through prophetic dance, and learn some dance technique!
---
With Pastor Lynn M Hayden
With over 50 years of dance experience behind her, Lynn has dedicated all her ballet, modern, jazz, and choreography technique to the Lord for His glory. She has performed with the Towson State University Dance Company, and the Ballet Theatre of Annapolis and and has been ministering, for the Lord, through dance, since 1986. Lynn is a well-known author of eight books on worship and prophetic dance, and producer of more than thirty worship dance DVD's and administrates a successful on line ministry dance school. Lynn assisted the choreographer and danced in Integrity Hosanna's music video "Sing Out" with Ron Kenoly; and has traveled, teaching Dancing For Him Conferences for over 20 years. As founder, director and administrator for the Dancing For Him ONLINE SCHOOL, Lynn is a gifted leader of leaders. Her graduates have grown substantially in their call to dance for the Lord. Many people mentored by Lynn, over the years, have successfully gone on to have their own dance teams, hold their own workshops, choreograph beautiful ministry dances and even write their own books. The school has enabled Lynn to perpetuate her legacy of transforming hearts and changing lives, through ministry dance. Many lives have been touched and changed by this unique, ministry. It is much more then just learning how to dance. Lynn utilizes the Prophetic arts as a means by which to minister the heart of God. Lynn also ministers in dance directly to the congregation with an anointing that breaks the yoke of bondage, heals and delivers!
And
Pastor Wil Bozeman For over 30 years, Wil has ministered in a variety of settings as a pastor, teacher and musician. Throughout his ministry he has also worked with the homeless, at-risk youth and has translated truth into the rhythms and colors of story telling.
He is a prolific author, a singer/ songwriter and accomplished musician. In addition to gifted creativity, his ability to transcribe scripture into life changing messages captivates the listener, while gently presenting the Lord's healing balm.
With Worship Leader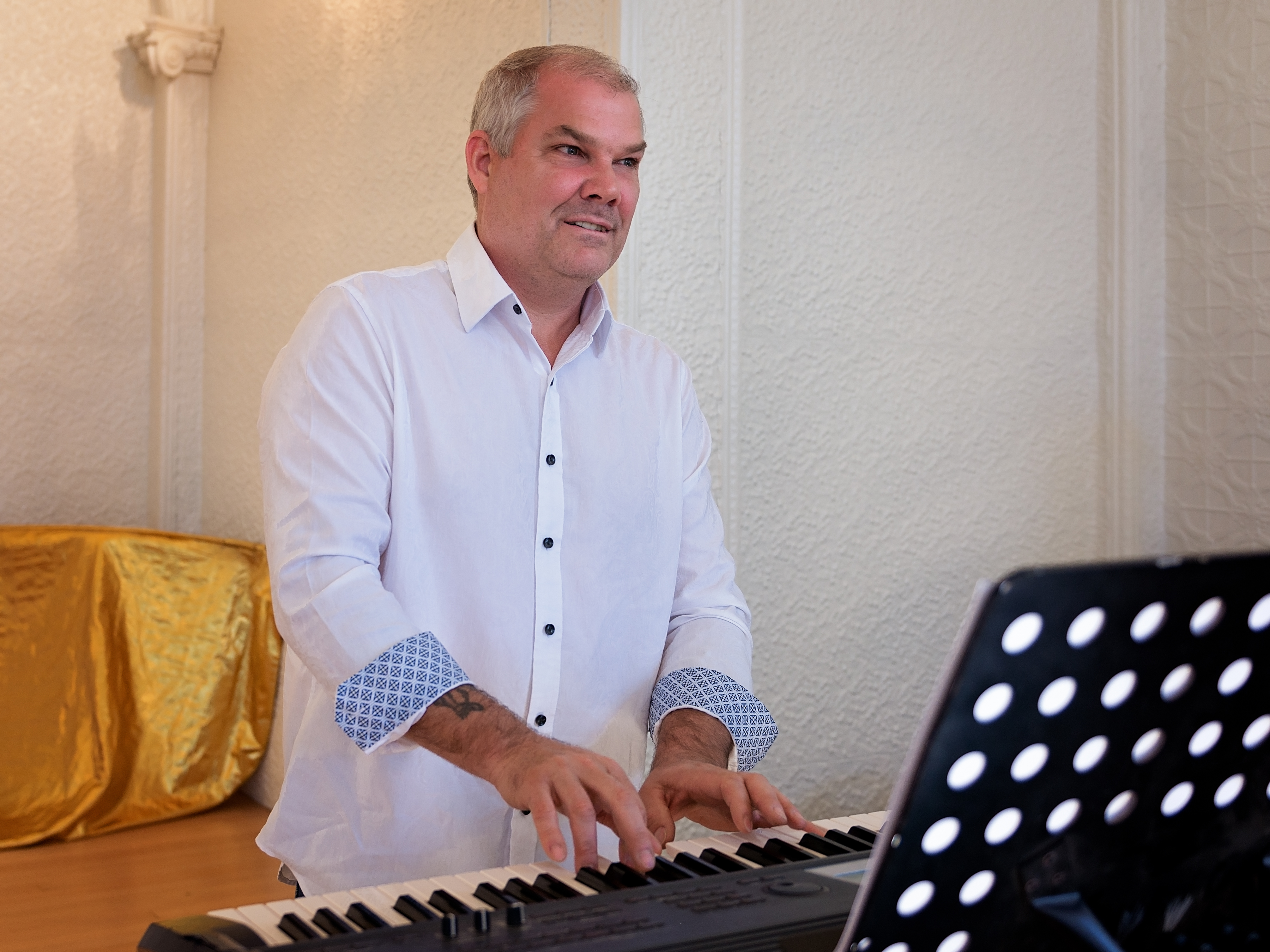 Rob Cummings, Gateway Christian Center Worship Leader, Psalmist, and Lover of God, has been leading worship since 2005. With a passionate heart toward Jesus, his worship calls down the anointing and he is used mightily in prophetic song. When he ministers the Lord shows up, changing and charging the spiritual atmosphere.
In 2009, he produced his freshman CD, "Touched," and recently recorded his first single, "Now Generation." Rob earned a certificate of worship in 2013, from Bethel Worship University.
In the bi-weekly meetings, Hosting His Presence (that Rob hosts), there is worship, soaking, prayer, edification, strength, encouragement, revelation of His love and promises, and the life giving power of His word ~ Hebrews 10:19-25. Coming from a place of brokenness and surrender, Rob ministers the love and grace of the father's heart to all who listen.
---
Would you love to learn some modern/contemporary dance technique?
Would you love to learn about intercession and then pray through your dance?
Would you love to receive ministry through and be activated in artistic ministry and prophetic dance?
Then this conference is for you!
Come, let us experience this deep place of worship where life-changes happen. We will see a transformation not only in our dance, but in our selves...Come, let us worship Him together. Then go home not only with fresh ideas, but changed...
Video Clip of a Previous DFH Conference
Subjects Covered
ALL NEW IN DEPTH CLASS FORMAT!
Artistic Worship
Live Prophetic Song and Dance
Artistic Ministry
Participants' Worship Dance Concert
Stretch and Adoration
Modern/Contemporary Dance Technique
Wonderful Teaching on Prayer/Intercession
Intercession Through Dance
The video clip on this page will give you an idea of what powerful, life changing transformations takes place during Artistic Ministry.
Also note: Although we encourage entire teams to come, individuals are more than welcome to come by themselves. So, you do not have to be a member of a team to attend.
Basic Schedule
SATURDAY
8:00 - 12:00 - Opening Prayer/Welcome
Modern/Contemporary Technique Warm Up/Stretch and Adoration
Artistic Worship (Music Rob Cummings)
Teaching on Intercession (Pastor Wil Bozeman)
Intercession and Dance
12:00 - 12:20 - Product Table Open
12:20 - 1:30 - Lunch Break (On your own)
1:30 - 5:00 - Free Worship
Teaching on Intercession (Pastor Wil Bozeman)
Intercession and Dance
Prophetic Dance (Music Rob Cummings)
Artistic Ministry
5:00 - 5:20 - Product Table Open
5:20 - 7:00 - Dinner Break (On your own)
7:00 - Until... - Participants' Dance Concert
You'll receive a more specific PDF schedule via email.
This is going to be an awesome time of learning and ministry! Come, receive ministry, get renewed and refreshed and let God transform your life!
The Level 3/4 students from the online school may possibly be conducting some of the ministry activations
and other classes as part of their hands on experience for the online school.
Concert
The evening concert is always a highlight of a conference. It is where you get to present a dance that you will have already done at your church and share your gift with the other participants.
Space for participation in the Friday evening concert is limited to the first 12 individuals, groups, or teams who desire to be in it and are fully registered.
Cost
Includes admission to all the classes...
$38.00 - Individual - Received on or before December 17, 2019, 11:59PM (EDT) - Early Savings Date
Groups of 5 or more - $31.00 each**
$47.00 - Individual - Received on or before April 17, 2020, 11:59PM (EDT) - Regular Rate
Groups of 5 or more - $40.00 each**
$56.00 - Individual - Received on or before May 9, 2020, 11:59PM (EDT) - Final Cut Off Rate
Groups of 5 or more - $49.00 each
ABSOLUTELY NO REGISTRATIONS RECEIVED AFTER THIS DATE (May 9th).
It is a gated community and we must have your name on the list for the guard no later than May 9th midnight Eastern Standard Time.
See below for how to register.
Local/Travel Information
LOCATION
Carillon Lakes Community
Lakeview Hall
3901 Carillon Blvd.
Lakeland, FL 33811
Once inside the gate, the hall will be the 1st Right. Park on the right and it is the first building on the right.
AIRPORTS
Tampa International - About 40 minutes to the conference location
Orlando International - About 60 minutes to the conference location (depending on traffic)
HOTELS
Staybridge Suites Lakeland West
3855 Don Emerson Drive Lakeland, Florida 33811 United States
863-225-2886
This is about 3 minutes from the conference location.
---
Don Emerson Drive Lakeland, Florida 33811 United States
863-647-0066
This one is about 4 minutes from the conference location.
---
Fairfield Inn & Suites by Marriott Lakeland Plant City (special reservation link for DFH that includes the discounted price)
4307 Sterling Commerce Dr.
Plant City, FL 33566 USA
We are conveniently located just off off I-4 and the Polk Parkway, and are a mere 4 miles from Carillon Lakes. We are confident that your guests will enjoy the following amenities we have to offer:

- COMPLIMENTARY Hot Breakfast Buffet
- COMPLIMENTARY WiFi
- COMPLIMENTARY Local Shuttle Service
- Heated Outdoor Swimming Pool with Gas Grill
- 24 hour Business Center
- 24 hour Fitness Center
- 24 hour Market
- Marriott BonVoy Rewards

I am pleased to offer a room rate of $109 for the 2020 Dancing For Him Conference in Lakeland, FL (the regular room rate on your event date is $149). If this rate is agreeable, please let me know and I'd be happy make the appropriate arrangements. Upon signing of the Room Block Agreement you will receive a reservation link specific to the Dancing For Him group on May 16, 2020. No discount code necessary!
---
But the above 1st two are soooo close by.
RESTAURANTS
Coming out of the Carillon Lakes community, if you turn left at the light, then get on 570 (Polk Parkway East Right side entrance) and go two exits, you'll get off on Hardin Blvd. (exit 5). If you go North on Hardin, there are some restaurants there - Starbucks, Crispers, some smaller places in the mall there and some of the larger restaurants (Olive Garden and such), but it may take too long to get back on time if you go to the big places.
On the other side of the street, across from the Mall, there is Publix, a little lunch place, a sub place (but Publix subs are the best), I think there is a fast food place in there too. Most Publix's have pre-made salads too.
Polk Parkway is a toll road so be prepared with quarters.
But, there is a back way with no toll, if you want. Turn right at Carillon Lakes light onto Airport Rd. go to light at Drain Field Rd and go left. Keep going until you get to Hardin Blvd. turn left onto Hardin.
---
BUT if you go 3 exits off of Polk Parkway, it is South Florida Blvd. If you go North (left), there is Chipolte, Ruby Tuesday's, and some other places. If you go South (right), there is quite a bit. First Watch, wing place and many others.
OTHER IMPORTANT INFORMATION
There is a guard at the gate. Your name will be on a list to be let in. Tell him your name and that you are with Dancing For Him Ministries' Event.
Because it is a private community center, no one will be allowed anywhere else on the grounds or in the building. Thank you.
What To Wear/Bring
Water bottle with tight fitting lid (no other food or beverage allowed in the hall).
Flags and other worship instruments. There is plenty of room to move and express!
The DFH product table will be there with all the products at lower-then-bookstore conference prices. There will be a 'special price surprise' on a one of everything product package. Also, some of the music that will be used during the workshop may be available for sale. So you'll want to bring MC, Visa, AM Express, Discover cards, cash or checks with you to the hall. You'll want to take advantage of the opportunity.
Absolutely NO video taping allowed during the conference. Most of the teaching and dances will be available either at the product table or in a new upcoming DVD. However, taking photographs is encouraged.
Wear comfortable, modest clothing for ease of movement. Comfortable shoes for long days on our feet (like Keds or jazz sneakers). Light jacket or sweater for possibly cool air conditioning. Cool modest clothing in case it is warm. Recommended: hat, sun screen, sun glasses for the classes outdoors.
Contact Information
Children
The conferences are primarily geared for adults. There will be no children's classes nor child care. Children under 12 are free. However EACH child under 12 must be accompanied by a fully registered, participating, responsible adult (18 or older). The child's parent/guardian must read and sign their waiver form or agree to it by electronic signature. Due to the largely ministerial nature of the conference and a very long day on our feet, we ask that you consider the attention span of your child before registering them. There will be no sideline mothers for any youth. Thank you.
Terms
The amount of registrations, offerings, support, etc., is absolutely non-refundable. Nor may it be applied to another conference. It may be transferred to another person. If for some unforeseen reason, regardless of the situation, you will be unable to attend, your tax-deductible registration will be considered a love gift/donation to further the work of God through Dancing For Him Ministries. Thank you. NO one-day rates available. We encourage you to attend the entire retreat or as much of the conference as you are able.
Ways To Register
Thank you for your participation. May the blessings of the Lord overtake you...
We'll see you soon!!