THE TRIUMPH OF THE BELOVED
(the Cross and Resurrection)
a time of withdrawal from the cares and noise of the world,
a time where we come away for prayer, meditation, healing, and cleansing...
while of course, we will be learning movement concepts and sharing ideas, our primary purpose is to release you to dance in high places while studying theme related topics in God's word.
Read the following for more details about this unforgettable experience!!
With
Lynn Hayden

With over 50 years of dance experience behind her, Lynn has dedicated all her ballet, modern, jazz, and choreography technique to the Lord for His glory. She has performed with the Towson State University Dance Company, and the Ballet Theatre of Annapolis and and has been ministering, for the Lord, through dance, since 1986. Lynn is a well-known author of eight books on worship and prophetic dance, and producer of thirty plus instructional praise dance DVD's and administrates a successful online ministry dance school. Lynn assisted the choreographer and danced in Integrity Hosanna's music video "Sing Out" with Ron Kenoly, choreographed for Dawn Branch Works Eden production; and has traveled, teaching Dancing For Him Conferences since 1995. Many lives have been touched and changed by this unique, ministry. It is much more then just learning how to dance. Lynn utilizes the prophetic arts as a means by which to minister the heart of God. Lynn also ministers in dance directly to the congregation with an anointing that breaks the yoke of bondage, heals and delivers!
and Wil Bozeman
For over 30 years, Wil has ministered in a variety of settings as a pastor, teacher and musician. Throughout his ministry he has also worked with the homeless, at-risk youth and has translated truth into the rhythms and colors of story telling. He is a singer/songwriter and accomplished musician. He is a prolific writer of over 10 books about worship; Life and Ministry of Jesus; Leadership and more. In addition to gifted creativity, his ability to transcribe scripture into life changing messages captivates the listener, while gently presenting the Lord's healing balm.
Video Clip of Previous Retreat
RETREAT LOCATION - HIGH PASTURES
So come and let us journey together in this most wonderful of all studies -- the cross and resurrection (The Truth of the Beloved). Ponder with me these sacred mysteries:
The eternal God was born into time
the infinite Creator of all life took on the limitations of flesh
the sinless holy One bore the sin of many
the Lord of all life embraced our death
the slain Lamb rose from the dead
Let us behold His ascension to the right hand of the majesty on high and may we respond with the only fitting response of true disciples. Let us crown Him with our worship. - Wesley Scott Amos
Subjects Covered
Artistic Worship
Expressive Worship and Sign
Artistic Ministry
Flags/Pageantry
Billow Cloth Beauty
Active Word Study
Prophetic Dance
Dance Composition
Participants' Concert
Lessons about the Cross and Resurrection (taught by Pastor Wil)
Each Followed by dance ministry activations facilitated by Pastor Lynn
The Level 3/4 students from the online school will be conducting most of the ministry activations
and other classes as part of their hands on experience during school.
---
Come, receive ministry, get renewed and refreshed and let God transform your life!
Also note: Although we encourage entire teams to come, individuals are more than welcome to come by themselves. So, you do not have to be a member of a team to attend. For this particular conference, since it is so specialized, it is for adults only (ages 16 and up). Thank you.
Basic Schedule
Thursday
After 3:00 - Arrival - Go to Office/Maple Dining Hall, #1 building to check in and receive your room key. If coming in after hours, there will be a key already in your room. Your room will have your name posted outside the door. Just be sure your bill is paid with them no later then first thing Friday morning.
You need to reserve your rooms ahead of time and pay them a deposit. We will be staying primarily at Laurel Lodge, #3. But there is overflow accommodations at Singing Waters Dorm, #2. Everything is very close walking distance.
Register for the retreat here on this site. THEN call Cheryl to reserve your room and board ahead of time: 828-682-3138
Friday
7:30 - Sign in and Breakfast (breakfast served at 7:30)*
8:30 -11:30 - Artistic Worship, Classes/Lessons/Activations
11:30 - 12:00 - Product table open
12:00 - 1:30 - Lunch Break (lunch served at 12:00)*
1:30 - 5:00 - Lessons/Activations
5:00 - 5:20 - Product table open
5:20 - 6:00 - Relax/Reflect/Retreat
6:00 - 7:00 - Dinner Break (dinner served at 6:00)*
7:00 - 8:30 - Prophetic Dance/Artistic Ministry
Saturday
7:30 - 8:30 - Breakfast (breakfast served at 7:30)*
8:30 -11:30 - Artistic Worship, Classes/Lessons/Activations
11:30 - 12:00 - Product table open
12:00 - 1:30 - Lunch Break (lunch served at 12:00)*
1:30 - 5:00 - Lessons/Activations
5:00 - 5:20 - Product table open
5:20 - 6:00 - Relax/Reflect/Retreat (optional rehearse in space for concert)
6:00 - 7:00 - Dinner Break (dinner served at 6:00)*
7:00 - Until - Participants' Dance Concert
Sunday
7:30 - 8:30 - Breakfast (breakfast served at 7:30)*
8:30 - 9:00 - Free Worship
9:00 - 11:30 - Sunday Morning Message/Praise Dancing
11:30 - Check out
You'll receive a more specific schedule via email.
This is going to be an awesome time of learning and ministry!
Concert
The Saturday evening concert is always a highlight of a conference. It is where you get to present a dance that you will have already done at your church and share your gift with the other participants.
Space for participation in the Saturday evening concert is limited to the first 12 individuals, groups, or teams who desire to be in it and are fully registered.
Cost
PRICE INCLUDES:
Admission To All The Classes
Pastor Wil's Retreat Theme Book
Tote bag
Plus, we're having a drawing to give away one Body Wrappers Tunic!
NOTE: It will more than likely be different than this one that is shown, but shown just to give you an idea.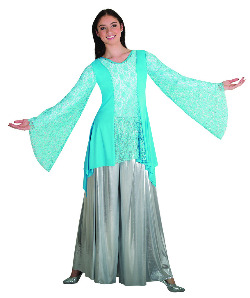 Body Wrappers style 629 Drapey Lace Panel Tunic
Colors: Kiwi, Rose, Tangerine, Turquoise, White
Adults: XS, S, M, L, XL
Womens: 2X, 3X, 4X
Retail Value $52.00

Drawing for this garment will be held during the Saturday evening concert. Must be present to win.
After registering for the retreat here in the DFH website, you must contact the retreat center to reserve your room and board.
These are separate registrations.
COST/DFH REGISTRATION
Conference/Retreat Registration - Here, below, in this Dancing for Him site.
$75 - EACH - Received on or before December 17, 2019, 11:59 EST - Extra Early Savings Date
$88 - EACH - Received on or before June 17, 2020 11:59 EST - Early Savings Date
Groups of 5 or more - $81 EACH
$104.00 - EACH - Received on or before July 1, 2020 11:59 EST- Regular Savings Date
Groups of 5 or more - $96 EACH
$118 - EACH - Received on or before July 17, 2020 11:59 EST - Door Rate
Groups of 5 or more - $111 EACH
Lodging at Laurel Lodge - 1 Person $50/person/day - Each additional person $15/person/day (subject to change).
Meal package price - Ask at the retreat center when you call.
Contact Retreat Center for current details and reservations: Cheryl - 828-682-3138
Please note that there is not enough time to go down into the town to eat at a restaurant. We encourage everyone to fellowship together during the meal times. It makes it so special.
Local/Travel Information
HIGH PASTURES
290 Kings Highway*
Burnsville, NC 28714
828-682-3138
*GPS use: 1480 Georges Fork Road
CLICK HERE for driving directions.
Airports: Asheville, NC (AVL) Asheville Regional (About an hour to retreat center)
What To Wear/Bring
Water bottle with tight fitting lid (no other food or beverage allowed in the hall).
Flags and other worship instruments. There is plenty of room to move and express!
The DFH product table will be there with all the products at lower-then-bookstore conference prices. There will be a 'special price surprise' on a one of everything product package. Also, some of the music that will be used during the workshop may be available for sale. So you'll want to bring MC, Visa, AM Express, Discover cards, cash or checks with you to the hall. You'll want to take advantage of the opportunity.
Absolutely NO video taping allowed during the conference. Most of the teaching and dances will be available either at the product table or in a new upcoming DVD. However, taking photographs is encouraged.
Wear comfortable, modest clothing for ease of movement. Comfortable shoes for long days on our feet (like Keds or jazz sneakers). Light jacket or sweater for possibly cool air conditioning. Cool modest clothing in case it is warm. Recommended: hat, sun screen, sun glasses for the classes outdoors.
Contact Information
Activity/Ministry Information:
Lynn Hayden
863-398-8161
[email protected]
Meals/Lodging:
Cheryl
828-682-3138
Terms
The amount of registrations, offerings, support, etc., is absolutely non-refundable. Nor may it be applied to another conference. It may be transferred to another person. If for some unforeseen reason, regardless of the situation, you will be unable to attend, your tax-deductible registration will be considered a love gift/donation to further the work of God through Dancing For Him Ministries. Thank you. NO one-day rates available. We encourage you to attend the entire retreat or as much of the conference as you are able.
Several Ways To Register
Please note: This conference is for adults only (ages 16 and up).*** Thank you.
Thank you for your participation. May the blessings of the Lord overtake you...
We'll see you soon!!