Neshamah (Hebrew) - Breath - blast, that breathes, inspiration, soul, spirit - From nasham; a puff, i.e. Wind, vital breath, divine inspiration, intellect. Or blast, (that) breath(-eth), inspiration, soul, spirit. (Strong's)
The Breath of Life - A thing that someone needs or depends on (dictionary)
Then the LORD God formed a man from the dust of the ground and breathed into his nostrils the breath of life, and the man became a living being. Genesis 2:7 NIV
The Spirit of God has made me; the breath of the Almighty gives me life. Job 33:4 NIV
In this new season, let us explore in greater depth the artistic ways we can glorify the Lord, as He breathes new life into us!
---
With Lynn M Hayden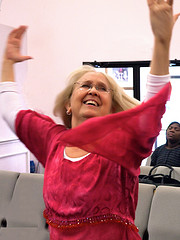 With over 50 years of dance experience behind her, Lynn has dedicated all her ballet, modern, jazz, and choreography technique to the Lord for His glory. She has performed with the Towson State University Dance Company, and the Ballet Theatre of Annapolis and and has been ministering, for the Lord, through dance, since 1986. Lynn is a well-known author of eight books on worship and prophetic dance, and producer of more than thirty worship dance DVD's and administrates a successful on line ministry dance school. Lynn assisted the choreographer and danced in Integrity Hosanna's music video "Sing Out" with Ron Kenoly; and has traveled, teaching Dancing For Him Conferences for over 20 years. As founder, director and administrator for the Dancing For Him ONLINE SCHOOL, Lynn is a gifted leader of leaders. Her graduates have grown substantially in their call to dance for the Lord. Many people mentored by Lynn, over the years, have successfully gone on to have their own dance teams, hold their own workshops, choreograph beautiful ministry dances and even write their own books. The school has enabled Lynn to perpetuate her legacy of transforming hearts and changing lives, through ministry dance. Many lives have been touched and changed by this unique, ministry. It is much more then just learning how to dance. Lynn utilizes the Prophetic arts as a means by which to minister the heart of God. Lynn also ministers in dance directly to the congregation with an anointing that breaks the yoke of bondage, heals and delivers!
Video Clip of a Previous DFH Conference
Would you love to learn many aspects and concepts of worship/expressive dance?
Would you love to learn some fresh movement and choreography ideas?
Would you love to receive ministry through and be activated in artistic ministry and prophetic dance?
Then this conference is for you!
Come, let us experience this deep place of worship where life-changes happen. We will see a transformation not only in our dance, but in our selves...Come, let us worship Him together. Then go home not only with fresh ideas, but changed...
Subjects Covered
ALL NEW EXTENDED IN DEPTH CLASS FORMAT!
Artistic Worship
Prophetic Dance
Artistic Ministry*
Flags With Purpose
Participants' Worship Dance Concert (where you present your own dance)
Stretch and Adoration
Modern Dance Technique
Contemporary Warm Up
Choreography Technique
Choreography - We will learn all or part of a powerful worship dance. If you can stay over, we may present it at the host church Sunday morning.**

The video clip on this page will give you an idea of what powerful, life changing transformations takes place during Artistic Ministry.*
Also note: Although we encourage entire teams to come, individuals are more than welcome to come by themselves. So, you do not have to be a member of a team to attend.
Basic Schedule
FRIDAY
8:00 - 9:15 - Sign In/Artistic Worship/Welcome/Break
9:15 - 12:00 - Prophetic Dance/Artistic Ministry
12:00 - 12:20 - Product table open
12:20 - 1:30 - Lunch Break (On your own)
1:30 - 5:00 - Modern Dance Technique Class/Begin Learning Choreography
5:00 - 7:00 - Dinner Break (On your own)
7:00 - 8:30 - Participants' Worship Dance Concert
SATURDAY
8:00 - 9:30 - Artistic Worship/Heart Share/Break
9:30 - 12:00 - Modern/Contemporary Warm Up/Stretch and Adoration/Flags with Purpose/
Choreography Technique/Learn Part of a Dance
12:00 - 12:20 - Product table open
12:20 - 1:30 - Lunch Break (On your own)
1:30 - 3:30 - Choreography Technique and Learn (all or part of ) a Dance
3:30 - 3:45 - Break
3:45 - 5:00 - Possible final placement and rehearsal
for those who will present the dance on Sunday morning.
5:00 - Until... DFH Alumni Activities TBD (all are welcome)
You'll receive a PDF schedule via email.
This is going to be an awesome time of learning and ministry! Come, receive ministry, get renewed and refreshed and let God transform your life!
**Please note: You do not have to have any dance experience to participate in either the conference or the presentation dance. When you check out, please, though help me to know which part you prefer to do (Dance part, Flag part, or Billow Cloth part). Depending on the number of people, I can not guarantee you will have that part. But the selection process only helps me to know who has what experience and what preferences. It also helps me to 'see' the dance as I prepare. Thank you for your flexibility and understanding. The Lord has already given me most of the choreography to an awesome, anointed song and it is going to be so powerful!! I can not wait to teach and see it!!
SUNDAY
Join us for the worship service at the host church where, if we will have accomplished learning the entire dance during the conference, we can present it during service. Otherwise, join us for dancing during praise and worship!
If you will still be in town, we can fellowship together after church.
---
Dancing For Him School Alumni Reunion Activities (at conclusion of the conference), but all are welcome. This will be posted soon in 'other information' in the Local, Travel, Information area.
*The Level 3/4 students from the online school may be conducting some of the ministry activations
and other classes as part of their hands on experience for the online school.
Concert
The Friday evening concert is always a highlight of a conference. It is where you get to present a dance that you will have already done at your church and share your gift with the other participants.
Space for participation in the Friday evening concert is limited to the first 12 individuals, groups, or teams who desire to be in it and are fully registered.
Cost
Includes admission to all the classes...
EXTRA EARLY SPECIALS
$50.00 - Individual - Received on or before September 12, 2018, 11:59PM (EDT) - XXEarly Savings Date (To commemorate Lynn Hayden's 50+ years of dancing, she would like to bless anyone who registers during the XXEarly Savings period to do so at only $50!)
$75.00 - Individual - Received on or before January 12, 2019, 11:59PM (EDT) - EXTRA Early Savings Date

---
$88.00 - Individual - Received on or before June 12, 2019, 11:59PM (EDT) - Early Savings Date

Groups of 5 or more - $81.00 each**

$104.00 - Individual - Received on or before June 28, 2019, 11:59PM (EDT) - Regular Rate

Groups of 5 or more - $96.00 each**

$118.00 - Individual - Received on or before July 12, 2019, 11:59PM (EDT) - At The Door Rate

Groups of 5 or more - $111.00 each
See below for several ways to register.
Local/Travel Information
LOCATION
Gateway Christian Center
4966 Route 28
Cotuit, MA 02635
(On Cape Cod)
508-428-1114
AIRPORTS
(BOS) Logan International - Boston (68 miles)
(PVD) T.F. Green Airport - Providence, RI (78.5 miles)
(PSM) Portsmouth International, Portsmouth, NH (121 miles)
HOTELS
Hyannis Holiday Motel
131 Ocean St, Hyannis, MA 02601
(508) 775-1639
Cape Codder Resort & Spa
1225 Iyannough Rd Suite #1, Hyannis, MA 02601
(855) 736-0802
Best Western Cape Cod Hotel
1470 Iyannough Rd, Hyannis, MA 02601
(508) 771-4804
There are many more if you do a Google search.
RESTAURANTS
Panera Bread, B2 Burrito, Dominos Pizza, Pizza Wave, 99 Restaurant and Saga Fusion Sushi to name a few are nearby
---
What To Wear/Bring
Water bottle with tight fitting lid (no other food or beverage allowed in the hall).
Flags and other worship instruments. There is plenty of room to move and express!
The DFH product table will be there with all the products at lower-then-bookstore conference prices. There will be a 'special price surprise' on a one of everything product package. Also, some of the music that will be used during the workshop may be available for sale. So you'll want to bring MC, Visa, AM Express, Discover cards, cash or checks with you to the hall. You'll want to take advantage of the opportunity.
Absolutely NO video taping allowed during the conference. Most of the teaching and dances will be available either at the product table or in a new upcoming DVD. However, taking photographs is encouraged.
Wear comfortable, modest clothing for ease of movement. Comfortable shoes for long days on our feet (like Keds or jazz sneakers). Light jacket or sweater for possibly cool air conditioning. Cool modest clothing in case it is warm. Recommended: hat, sun screen, sun glasses for the classes outdoors.
Contact Information
Children
The conferences are primarily geared for adults. There will be no children's classes nor child care. Children under 12 are free. However EACH child under 12 must be accompanied by a fully registered, participating, responsible adult (18 or older). The child's parent/guardian must read and sign their waiver form or agree to it by electronic signature. Due to the largely ministerial nature of the conference and two very long days on our feet, we ask that you consider the attention span of your child before registering them. There will be no sideline mothers for any youth. Thank you.
Terms
The amount of registrations, offerings, support, etc., is absolutely non-refundable. Nor may it be applied to another conference. It may be transferred to another person. If for some unforeseen reason, regardless of the situation, you will be unable to attend, your tax-deductible registration will be considered a love gift/donation to further the work of God through Dancing For Him Ministries. Thank you. NO one-day rates available. We encourage you to attend the entire retreat or as much of the conference as you are able.
Ways To Register
Thank you for your participation. May the blessings of the Lord overtake you...
We'll see you soon!!