With Pastor Lynn M Hayden
With over 50 years of dance experience behind her, Lynn has dedicated all her ballet, modern, jazz, and choreography technique to the Lord for His glory. She has performed with the Towson State University Dance Company, and the Ballet Theatre of Annapolis and and has been ministering, for the Lord, through dance, since 1986. Lynn is a well-known author of eight books on worship and prophetic dance, and producer of more than thirty worship dance DVD's and administrates a successful on line ministry dance school. Lynn assisted the choreographer and danced in Integrity Hosanna's music video "Sing Out" with Ron Kenoly; and has traveled, teaching Dancing For Him Conferences for over 20 years. As founder, director and administrator for the Dancing For Him ONLINE SCHOOL, Lynn is a gifted leader of leaders. Her graduates have grown substantially in their call to dance for the Lord. Many people mentored by Lynn, over the years, have successfully gone on to have their own dance teams, hold their own workshops, choreograph beautiful ministry dances and even write their own books. The school has enabled Lynn to perpetuate her legacy of transforming hearts and changing lives, through ministry dance. Many lives have been touched and changed by this unique, ministry. It is much more then just learning how to dance. Lynn utilizes the Prophetic arts as a means by which to minister the heart of God. Lynn also ministers in dance directly to the congregation with an anointing that breaks the yoke of bondage, heals and delivers!
Would you love to warm up with and learn some Ballet dance technique?
Would you love to expand your movement vocabulary for worship dance?
Would you love to gain strength, grace and flexibility?
Would you love to improve your posture, get a great workout and move like a dancer?
Then this intensive is for you!
Come, let us learn, grow, dance and have fun together!
This class will be taking place online, through Zoom. Once you register, you will be given the link to join us.


Glory to God! All those who have always wanted to attend a DFH event and couldn't due to travel expense can now participate! How precious it is to be able to unite with people all over the world?!
Subjects Covered
Ballet Barre Technique Workout (50min-65min)
Stretch/Flexibility (10-25min)
BEGINNER CLASS
The beginner class will have more explanations of each exercise, yet will be a good barre workout and stretch. It is designed for people who: have always wanted to try ballet; would like a 2nd class during the week; or who have never had ballet training; or for who it has been a long time since you've danced or taken class; or want to take it a little slower and really work through each exercise, doing it correctly; or have other physical limitations.

INTERMEDIATE CLASS
The Intermediate class we will move right along from one exercise to the next, without a lot of explanations. It is for people who have had some ballet training before and are familiar with the basic terminology and positions, etc.
Basic Schedule
BEGINNER CLASS - From September 3-24, 2020 THURSDAYS 9:30AM - 10:45AM EST.
INTERMEDIATE CLASS - From September 5- 26 SATURDAYS 9:30AM - 10:45AM EST.
Please arrive at 9:15 to be admitted to the class and get comfortable. We will begin promptly at 9:30.
After class, for only a couple minutes, I may show you some flags, T-shirts, videos, etc. that are for sale. Or talk about the online school.
Cost
BEGINNER CLASS INTENSIVE SERIES - $37.00 for all 4 classes.
INTERMEDIATE CLASS INTENSIVE SERIES - $37.00 for all 4 classes.
BOTH THURSDAY AND SATURDAY CLASSES - $69 for all 8 classes.
There is no proration. This is the total for 4(8) classes. You'll be able to select your options during check out.
If you miss, your registration will be considered a donation to DFH. Please try to make it to all classes.
There are no pay as you go or prices for individual classes. It is a package of classes (for each level or both).
NO REGISTRATIONS AT THE DOOR. You may register now through each Tuesday, midnight EST, prior to each week's class. This gives us time to administrate and send you the link(s).
Register now to reserve your space!
** Classes will be recorded on Zoom and given to all paid participants. But you are encouraged to attend live:) If you missed the first class (or any of them) and decide to join us later in the program, you'll be given the recording of the one(s) you missed in your session, shortly after you register.
ABOUT TAKING DANCE CLASSES... CLICK PIC TO WATCH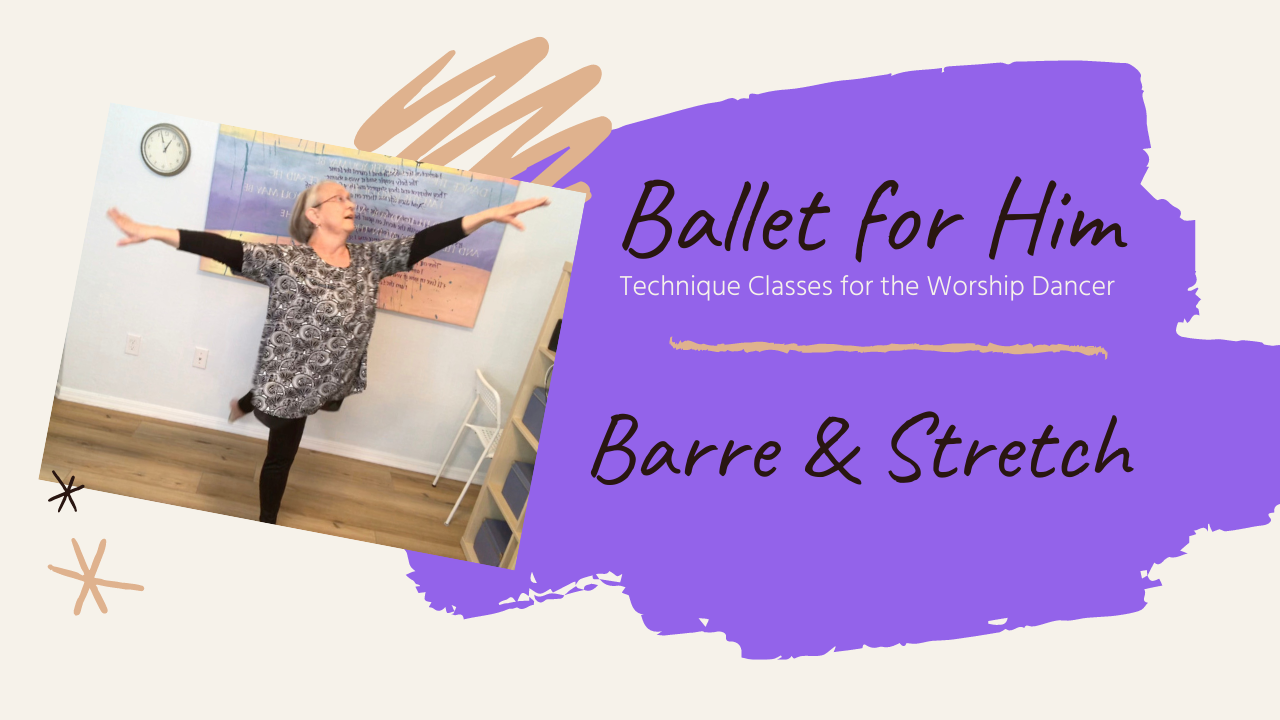 Local/Travel Information
LOCATION
ONLINE through Zoom
Once you register, you will be given the special link(s) to join as well as more details about it.
AIRPORTS
HOTELS
Not applicable
RESTAURANTS
Not applicable
OTHER IMPORTANT INFORMATION
What To Wear/Bring
Wear comfortable, modest clothing for ease of movement. Preferably ballet shoes. But if not, socks, soft slippers or wear comfortable dance shoes (like jazz sneakers, paws, etc). Bare feet are okay, but you want your feet to move easily on the floor without sticking.
Contact Information
LOCAL HOST AND FACILITATOR
Pastor Lynn Hayden
863-398-8161
[email protected]
Please know that the day of each class, we will not be able to answer questions (until class is over). I encourage you to be sure to read all the information way ahead of time. You'll be given more details after you register as well.
Children
The classes are primarily geared for adults. There will be no children's classes. Children under 12 may come for free. However EACH child under 12 must be accompanied by a fully registered, participating, responsible adult (18 or older). The child's parent/guardian must read and sign their waiver form or agree to it by electronic signature. We ask that you consider the attention span of your child before registering them. There will be no sideline mothers for any youth. Thank you.
Terms
The amount of registrations, offerings, support, etc., is absolutely non-refundable. Nor may it be applied to another conference, or class. It may not be transferred to another person. If for some unforeseen reason, regardless of the situation, you will be unable to attend any or all of the classes, your tax-deductible registration will be considered a love gift/donation to further the work of God through Dancing For Him Ministries. Thank you. NO one-day rates available. We encourage you to attend the entire event or as much of the class(es) as you are able.
Ways To Register
Thank you for your participation. May the blessings of the Lord overtake you...
We'll see you soon!!