Workshop attendee Information
ZOOM LINK FOR OUR ONLINE HOME FELLOWSHIP
We open at 10AM EST. All are welcome (if not already committed to a church at that time).
We have our own private worship times before coming on.
Then we fellowship a tiny bit.
Then Pastor Wil gives a message (right now on the Holy Spirit)
Then holy communion, followed by praying for each other's needs.
SCHEDULE
SATURDAY, SEPTEMBER 10, 2022, EASTERN STANDARD TIME
8:45 - 9:00 Sign In To Zoom
9:00 - 9:30 Artistic Worship
9:30 - 10:45 Word Study with Pastor Wil Bozeman/Followed by Artistic Ministry
10:45 - 11:00 Break
11:00 - 12:00 Modern/Contemporary Dance Technique Class/Stretch and Adoration
12:00 - 1:30 Lunch Break
1:30 - 3:30 Purposeful Pageantry
Flag Workshopping - Techniques/Choreography (Movement Ideas/Practice)
The main time frames (in bold) will remain the stable. But the specific class times within may change, based on logistical interactions and Holy Spirit's leading. Try to be there with your screen on as much as possible. We want to see your beautiful face:) The conference will not be recorded. Most of the subjects we will be covering are contained (in depth) in the videos and books that are available for sale. The conference is meant to be participatory. However, the concert, graduation and Sunday service will be recorded on Zoom, saved in Youtube, and those links will be sent to you shortly after (a day or two later).
PLEASE SCROLL DOWN FOR IMPORTANT WORKSHOP INFORMATION
PRODUCT SALE PRICES AND LINKS
Conference Specials good through September 10th (midnight EST)
DFH VIDEOS - 60% off Use Discount Code: 60off upon checkout.
DFH BOOKS - 20% off (Regular and E-Books) from now through midnight 11/7 - Use Discount Code:

BOOKSALE

upon checkout.
PASTOR WIL'S BOOKS - 60% off (Regular and E-Books) from now through midnight 11/7- Use Discount Code:

WSASALE

upon checkout.
DFH T-SHIRTS - Regularly starting at $16 (S-XL) - Right now… Amazing low, low price of (starting at)

only $10!!!
This is a rare opportunity! Please note that I can not guarantee that I will have your size or color choices. So, I will pick the closest color to your choices (should that be the case). 2X-5X will add $3-$6 respectively.
CLICK HERE OR on the pic above, to see video clips of what they look like!
Note: Some colors and sizes have sold, but most of what you see are still there. Currently low on sizes M and L.
*Special ordered flags, veils and silk billows will take about 4-6 weeks (usually sooner). No foreign shipping available on special order silk items. Should you select colors that I do not have on hand (what I show you during the conference), your color choices will automatically be special ordered.
BILLOW BANNERS
-

Tissue Lame (5 Yards) - Normally $53

Now - $42

You may order any flag set or veils in colors shown or create your own color combo (2 - 3 colors work best, or 4 is OK). Order in links above.

If you do not see the particular colors that I will have shown you, order something close to it and then email me, after you order: [email protected] telling me the one you want, like Red, blood of Jesus or Aqua and White. If you put surprise me, then I will pray about which to give you, based on what I have on hand.

FIRST COME, FIRST SERVED, WHILE SUPPLIES LAST!

*Should someone order what you want before you, yours will automatically become a 'special order.'
HOW TO CHECK OUT

Enter the particular code on your check out page. If you want to add more items to your cart, press continue shopping (grey button). You should be able to enter all 3 discount codes if you are ordering a variety of items.
CLASS ACTIVATIONS
For the Expressive Sign/Flag Vocabulary part of the workshop, I'll be teaching some movements to words found in common worship songs. After you learn them, we'll be doing an 'activation' (learn by doing an activity) to sort of put it together creatively.
Here is a list of pairs of words (reading from left to right). You'll be moving with the people that have the word across from your word.
Example: Desire will move with Sing; Worthy will move with Praise and so on… I'll explain the activation after the movements will have been shown.
Lamb - Blood

Love - Name
Depending on time and number of people, we may go into Zoom Breakout rooms. Each room or group will be assigned a pair of words like this:
GROUP/ROOM 1 - Lamb - Blood
GROUP/ROOM
2
- Love - Name

You'll have about 10 minutes to work together with these particular words. I will give specific instructions during the conference. It will be a fun way to creatively learn some expressive movements! If we have more time, we'll do more words.
Related resources that you may appreciate (found in alphabetical order on the page):
Perfume of Fire (about 2 hours of flag information)
Expressive Worship and Sign
Expressive Worship and Sign II
More Expressive Sign
We will do this immediately following Pastor Wil's message. You may begin praying about it and gathering supplies.
"But we all, with unveiled face beholding as in a mirror the glory of the Lord, are being transformed into the same image from glory to glory, just as from the Lord, the Spirit" (2 Cor. 3:18).
Under the Old Covenant, when Moses asked to see the glory of God, the Lord hid him in the cleft of the rock.

But under the new covenant we have an unobstructed view of the glory of God revealed in holy Scripture in the person of Jesus Christ. Now we are invited to enter the presence of God's glory in worship and in prayer. As we focus our lives on the glory of God revealed in Christ, we are moved from one level of glory to the next by the Holy Spirit, increasingly transformed into the image of the very glory we behold, increasingly devoted to the glory of God, increasingly manifesting the glory of God.

ACTIVATION
Supplies: Piece of cloth to drape over head; hand held mirror; Bible; pen and several little pieces of paper or like post its; a make shift alabaster box; something to represent the cross or the feet of Jesus (like red veil, flag, billow or what ever you have handy)

Song 1: In You - Mirror - Be in the cleft of the rock with a hand held mirror. Let the first song be a prayer. Look at yourself in the eyes and see who you are.
Write down a few things you do not like about yourself (separate small pieces of paper).
Song 2: Mirror - God's response is the second song - remove the cloth and put down the mirror - Pick up the bible - look at it like a mirror - listen to what God says to you about who you are to Him.
Take the pieces of paper, on the back of each one, write a promise of how God sees you. Then place them in your "Alabaster Jar." Worship the Lord.
We are reminded of the woman with the flask of perfume — she had to break the flask before she could anoint Jesus. But in the breaking, there was a release of the fragrance.
But sometimes the fragrance of Christ is released through suffering for the faith. Jesus reminded the church at Smyrna that He understood the crushing weight of persecution, the slander that was hurled against them and the imprisonment some had experienced.

Song 3: Alabaster - Write down pieces of who you are where you have been (or are) broken, hurt, persecuted, crushed, slandered, mis understood, lonely, financially challenged, etc.
Also write those things that are precious to you or are meaningful (children, family, your dance, gifting, etc.)
Place each of those pieces of paper in the Alabaster Jar.
But it was that suffering that was releasing the fragrant glory of Christ and so He then exhorted them, "Be faithful unto death and I will give you the crown of life" (Rev. 2:10). If they would continue to glorify the Lord with their witness even in suffering, He would glorify them with His reward.
Song 4: Alabaster Box - During this song, release the fragrance of Christ through your broken jar. Begin to take each piece of paper (all your pain, trauma, brokenness, lack) and spill /pour them (one by one) at the feet of Jesus as your fragrant offering of worship.
Once your jar is empty, then pour out all your worship as you dance freely!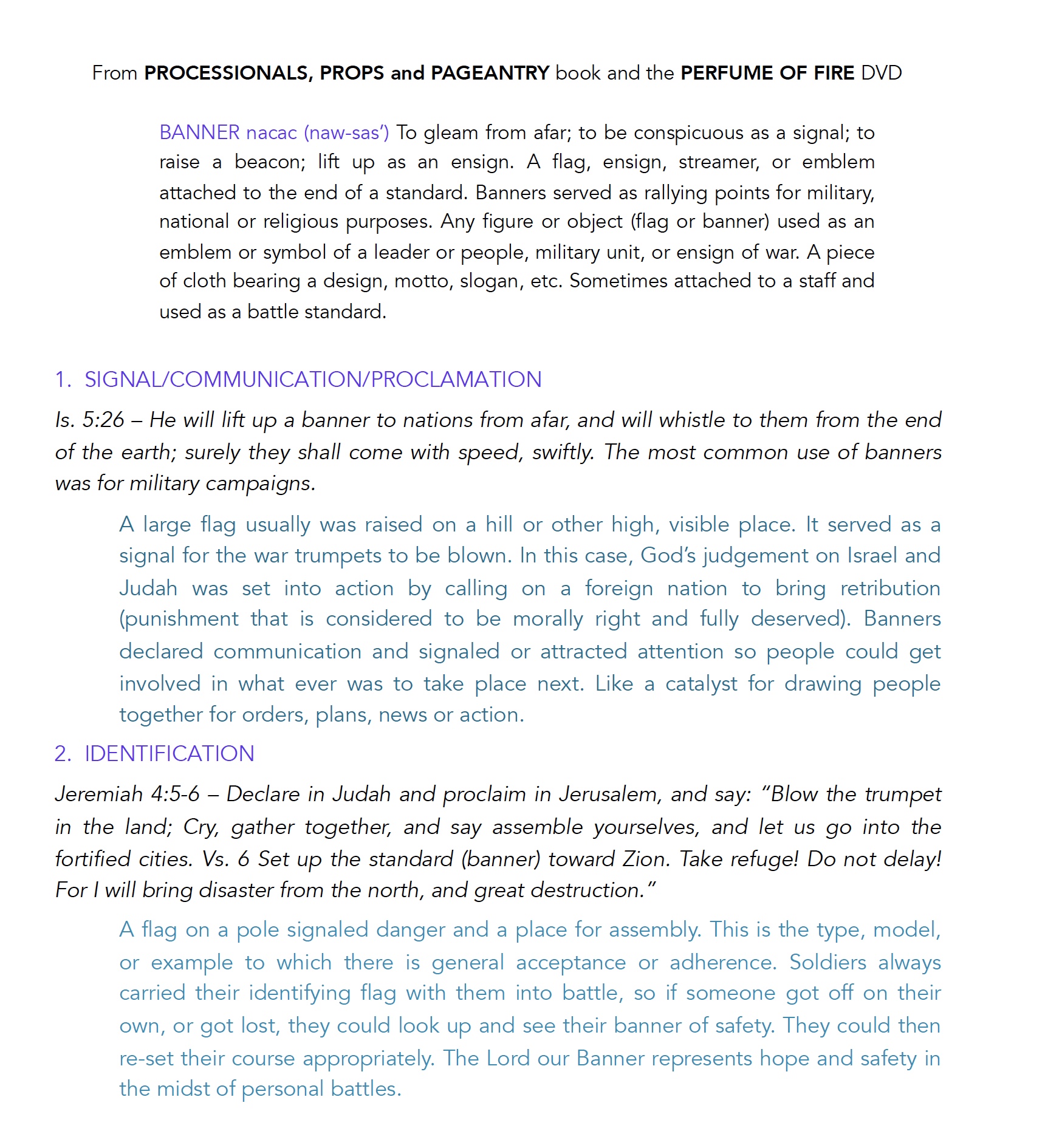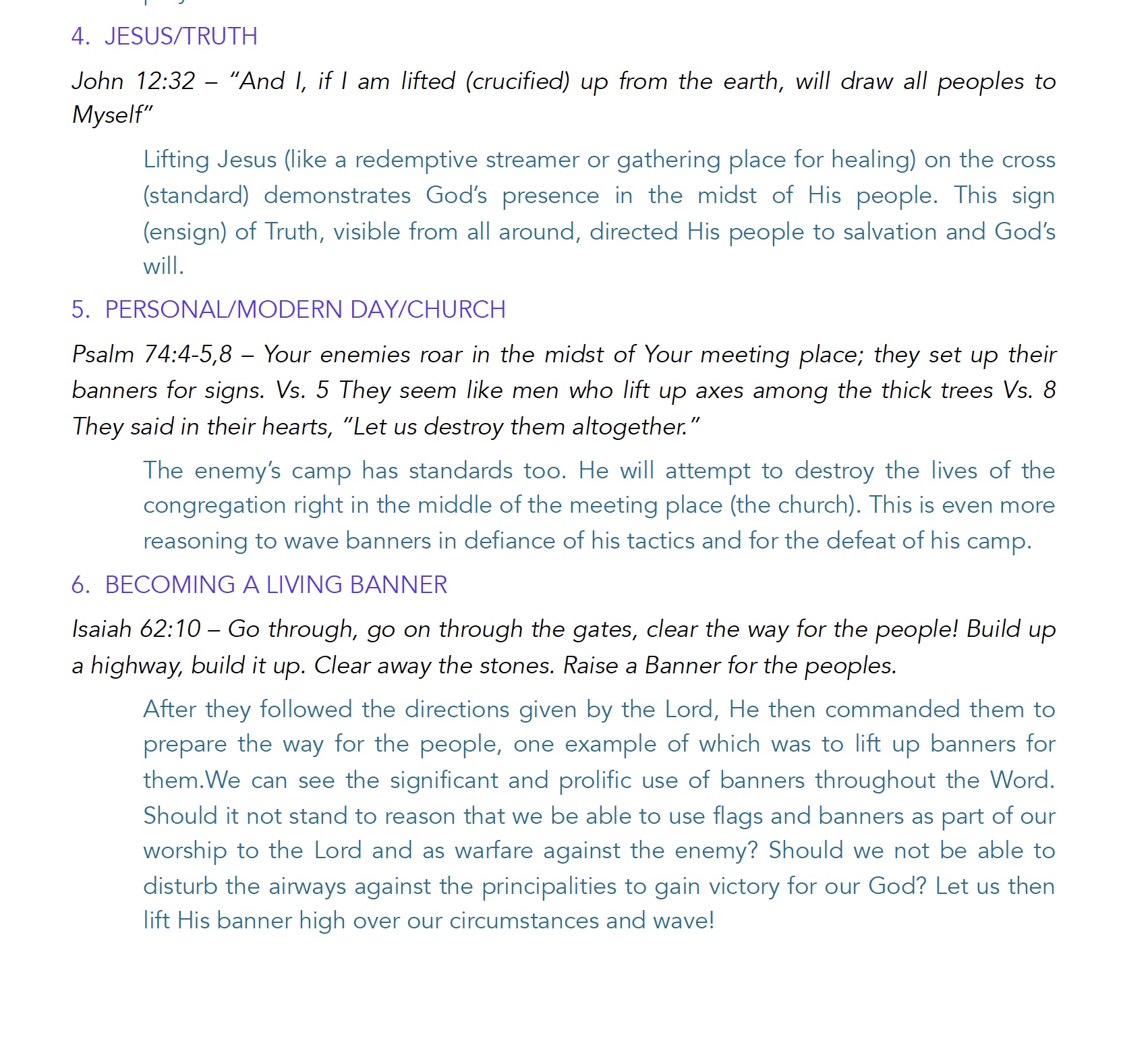 Flag Workshopping - Techniques/Choreography (Movement Ideas/Practice)
We will explore creative ways to use the flags. Some of this will be done during Modern class in the morning.
Flag Ideas with Dance Moves
Flag Choreography (3 Phrases)
Circles, Lines, Angles
Creating Flag/Dance Movements to your own Text
Purposeful Pageantry - #'s 5 and 6 above
Final Blessing!