Conference Information
SCHEDULE
SUNDAY, OCTOBER 10TH, 2021, EASTERN STANDARD TIME
Last DFH chat of the school year AND Pre-graduation conference meeting. We went over remaining questions about Dance Ministry. Then we briefly talked about the conference, time frames, activations, etc. Then l showed what flags, billows, veils, etc. are available for sale (at discounted prices) and where to find the sale links (listed below, scroll down this page). It was so incredibly wonderful to see so many of you on our final chat of the year. Thank you so much for your valuable input and sharing. I can't wait to see you at the graduation retreat!! Many Blessings...
THURSDAY, NOVEMBER 4TH, 2021, EASTERN STANDARD TIME
4:45 PM - 5:00 - ZOOM Meet and Greet (use same conference link, posted above). Sign into meeting.
5:00 - 7:00 (or earlier, depending on when we finish) - We will say hello to each other, find out where we are from, if you are students, alumni, what class, level (or not), etc. We'll talk a little about what to expect, how to prepare, etc. I hope all can attend.
**HERE IS THE SUPPLY LIST FOR MINISTRY ACTIVATIONS
FRIDAY, NOVEMBER 5TH, 2021, EASTERN STANDARD TIME

7:45AM EST Sign In to Zoom/Welcome
8:00 -12:00
Artistic Worship
Message 1 (Pastor Wil) - Activation Friday #1: Leesa Robinson
Message 2 (Pastor Wil) - Activation Friday #2: Marcy Garms
Break
Expressive Worship & Sign w/Flag Vocabulary - 1. Frances Bowen 2. Kelly Yurko 3. Amy Holderman 4. Gretchen Schwartzman
If time... Brief Modern Warm Up; Learn Joyful Praise Dance; and/or part of a worship dance w/flags/veils - Pastor Lynn

1:30 - 5:00
Message 3 (Pastor Wil)/Activation Friday #3: Pamela Dimry - #3A: Jennifer Rinear (P. Lynn)
Message 4 (Pastor Wil)/Activation Friday #4: Nicole Jagmohan - #4A: Suzi Herman
Break
Prophetic Dance/ Artistic Ministry Pastor Lynn
If time... one of the extra topics below.
5:00-6:30 Dinner Break

6:30PM EST Sign In to Concert Zoom
SPECIAL CONCERT & GRADUATION ZOOM LINK
6:45-8:45(ish)
Participants' Dance Concert
All are invited, open to family and friends
CONCERT
Final update and order of concert: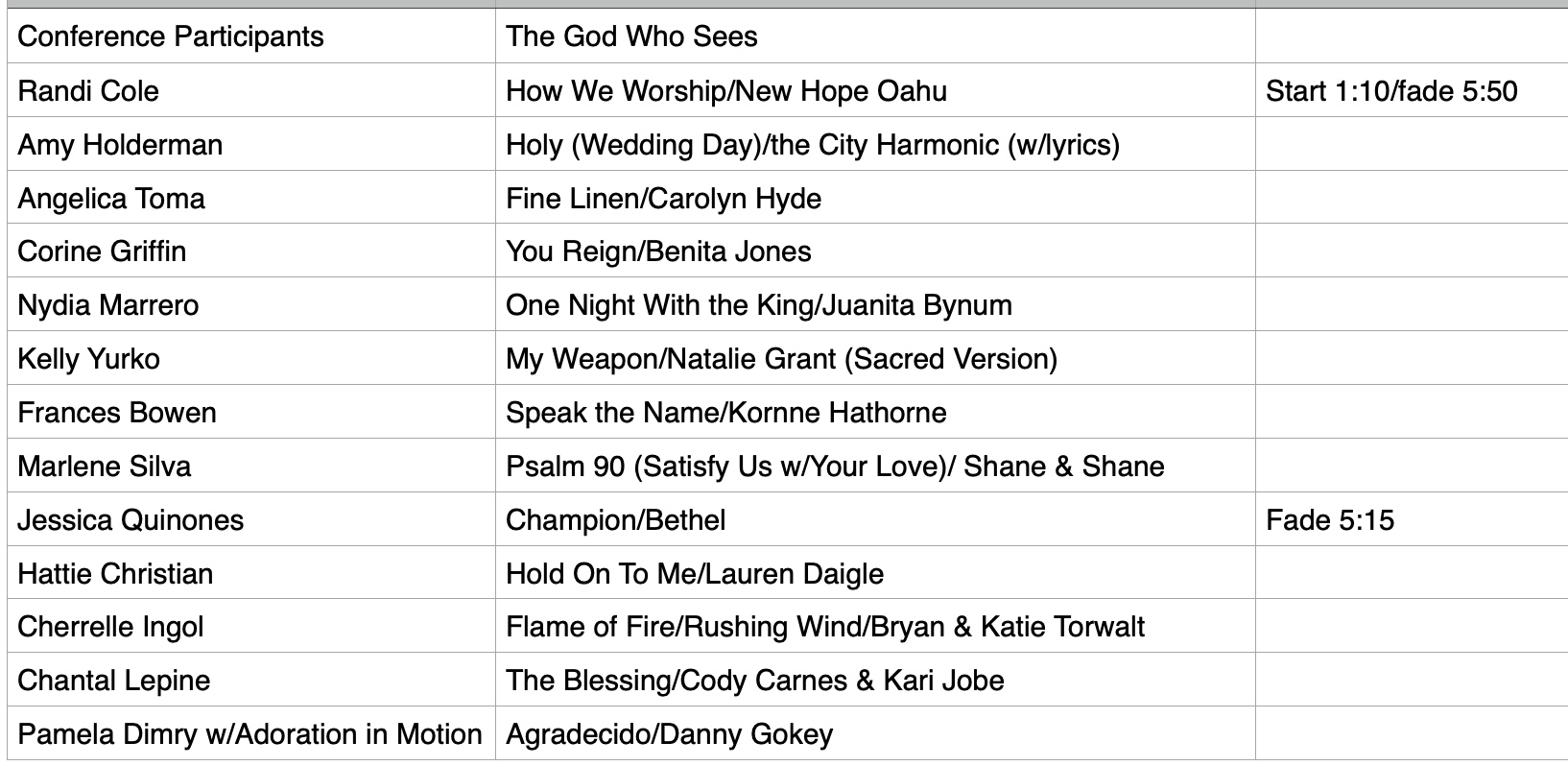 SATURDAY, NOVEMBER 6, 2021, EASTERN STANDARD TIME
7:45AM EST Sign In to Zoom/Welcome
ZOOM LINK FOR CONFERENCE

8:00-12:00
Artistic Worship
Message 5 (Pastor Wil) - Activation Saturday #1: Missy Weikel - #1A: K.C. McComas
Message 6 (Pastor Wil) - Activation #2: Jessica Quinones
Break
Modern Dance Warm Up and Stretch; Learn/do Joyful Praise Dance; and/or part of a worship dance w/flags/veils - Pastor Lynn

1:30-5:00
Bible Live! - Moving Scripture Study- Pastor Lynn
Message 7 (Pastor Wil) - Activation Saturday #3: Carolyn Perryman - #3A: Barbara Deligio
Break
Message 8 (Pastor Wil) - Activation Saturday #4: Nicole Freeman - #4A: Randi Cole
Extra time allowing for longer messages/activations, etc.; Or an additional worship dance topic (below)
5:00-6:30 Dinner Break
6:30PM EST Sign In to Graduation Zoom
SPECIAL CONCERT & GRADUATION ZOOM LINK
6:45-Until... DFH School Graduation
All are invited, open to family and friends
ORDER OF SERVICE
SUNDAY, NOVEMBER 7, 2021, EASTERN STANDARD TIME
Have your own worship time at home, before signing on to the service.
10:00 - 11:30ish - Sign into our Online Home Fellowship
SPECIAL SUNDAY SERVICE ZOOM LINK
Message 9 (Pastor Wil) - Activation Sunday #1: Angelica Toma - #1A: Corine Griffin
Holy Communion; Time of sharing about the conference; Prayer Requests
The main time frames (in bold) will remain the stable. But the specific class times within may change, based on logistical interactions and Holy Spirit's leading.
Try to be there with your screen on as much as possible. We want to see your beautiful face:) The conference will not be recorded. Most of the subjects we will be covering are contained (in depth) in the videos and books that are available for sale. The conference is meant to be participatory.

However, the concert, graduation and Sunday service will be recorded on Zoom, saved in Youtube, and those links will be sent to you shortly after (a day or two later).
PRODUCT SALE PRICES AND LINKS
Conference Specials good through November 7th (midnight EST) The links in the schedule lead to specific DVDs/Books that relate to what we will be doing. Here is the complete listing of what is available for sale at drastically reduced prices:
DFH VIDEOS - 60% off (Discs Only) from now through midnight 11/7 - Use Discount Code: DVDSALE upon checkout.
DFH BOOKS - 20% off (Regular and E-Books) from now through midnight 11/7 - Use Discount Code:

BOOKSALE

upon checkout.
PASTOR WIL'S BOOKS - 60% off (Regular and E-Books) from now through midnight 11/7- Use Discount Code:

WSASALE

upon checkout.
OTHER PRODUCTS
I'll be showing some of these items during the pre-conference meeting and during the conference. I'll also show you some of the items (mostly books and DVDs) after that particular subject will have been taught.
I hope you will take advantage of the especially low prices. Some DVD titles are nearly sold out. First come first served. Once they are gone, they will be no more:) Please keep this page's link for reference.
Also, it would be nice to have some of the books and DVDs to study, and T-shirts to wear before the conference. You may order as late as Tuesday, October 26th (before the conference), to receive T-shirts, books and DVDs before the conference (within US boarders).
Special ordered flags, veils and silk billows will take about 2-4 weeks. No foreign shipping on special order silk items.
I do have on hand and can put in the mail: See toward the middle of the pre-conference meeting.
DFH T-SHIRTS - EXCITING NEWS! I just received my order for a whole new lot of beautiful Dancing For Him T-shirts (in beautiful new colors), including sizes 3X, 4X and 5X!
CLICK HERE OR on the pic above, to see video clips of what is on hand now! Note: Some colors and sizes have sold, but most of what you see are still there.
HAND DYED SILK FLAGS (Set of 2)
Regular Size (34X44) - Normally $90 Now - $85
Large Size (45X60) - Normally $110 Now - $100
Large With Heart - Normally $125 Now - $110
During the Mini Flag Workshop, I showed all the new flags that are now available! You may see them in this video:
Note: Some have sold out since then.
Click in the link above to see a video for what is currently available (some have sold since then)
See pre-conference video for what is available - currently dark royal blue
You may order any flag set or veils in colors shown or create your own color combo (2 colors work best or 3 is OK). Order in links above.
CLASS ACTIVATIONS
For the Expressive Sign/Flag Vocabulary part of the conference, four graduates from the DFH school are going to be teaching some movements to words found in common worship songs. After you learn them, we'll be doing an 'activation' (learn by doing an activity) to sort of put it together creatively.
Here is a list of pairs of words (reading from left to right). You'll be moving with the people that have the word across from your word.
Example: Desire will move with Sing; Worthy will move with Praise and so on… I'll explain the activation after the movements will have been shown.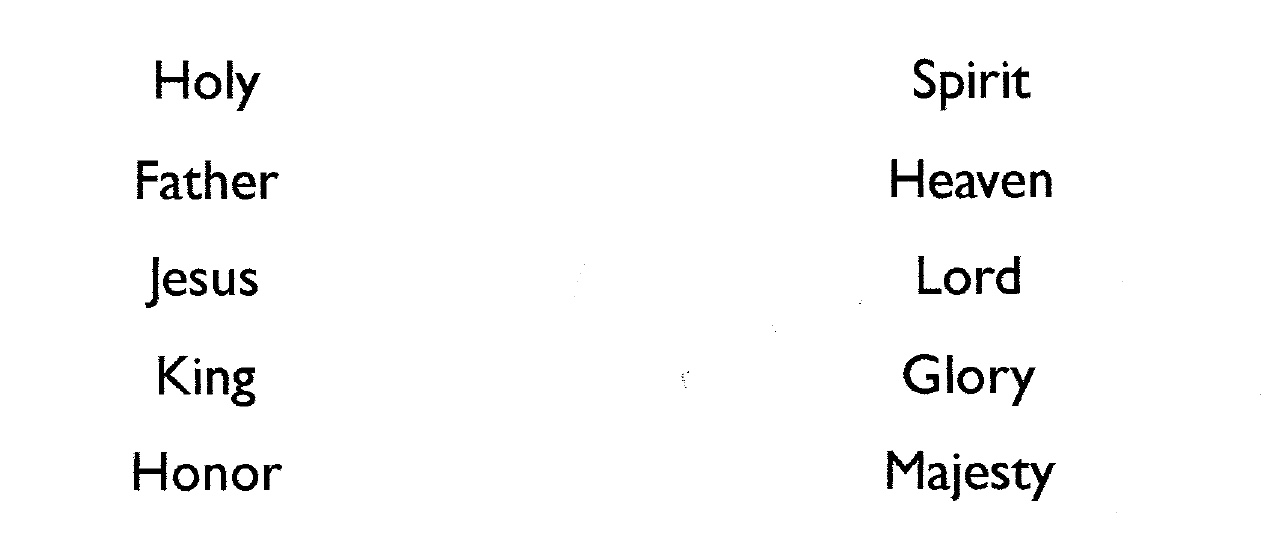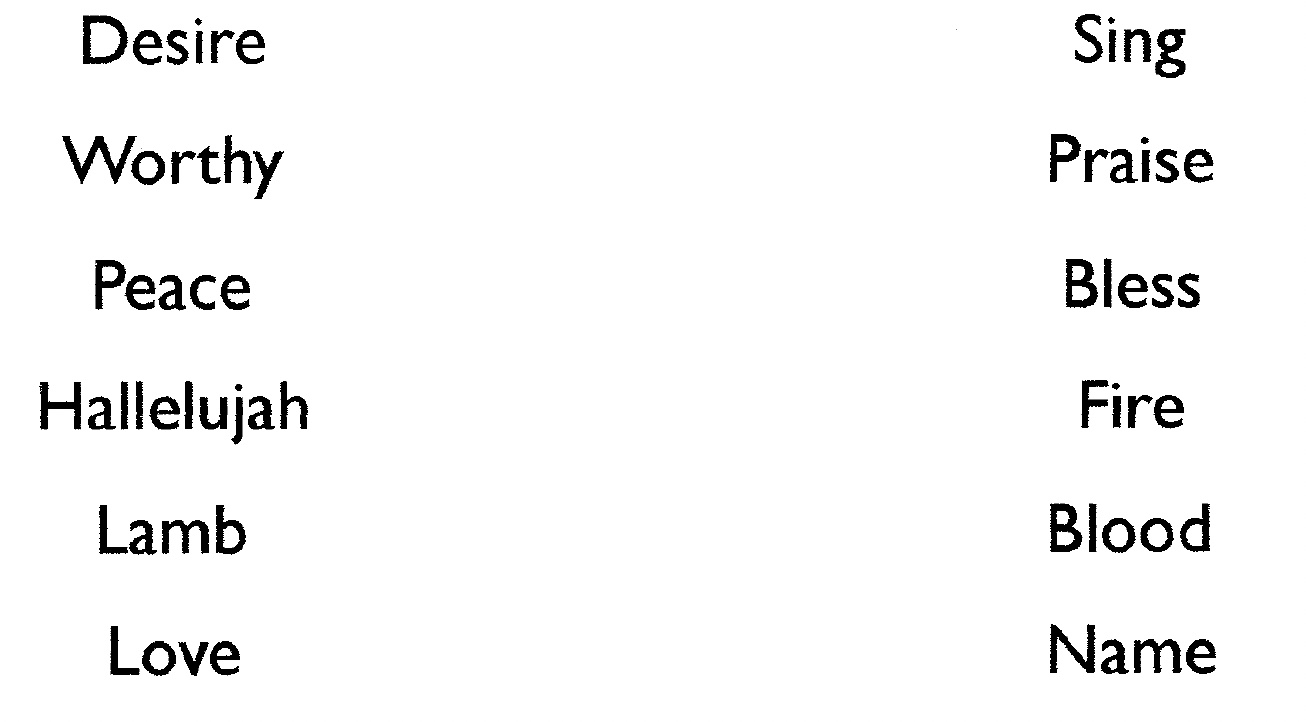 We will break up into Zoom Breakout rooms. Each room or group will be assigned a pair of words like this:
GROUP/ROOM 1 - HOLY/SPIRIT - Frances
GROUP/ROOM 1 - FATHER/HEAVEN - Frances
GROUP/ROOM 2 - JESUS/LORD - Kelly
GROUP/ROOM 2 - KING/GLORY - Kelly
GROUP/ROOM 3 - HONOR/MAJESTY - Amy
GROUP/ROOM 3 - DESIRE/SING - Amy
GROUP/ROOM 4 - WORTHY/PRAISE - Gretchen
GROUP/ROOM 4 - PEACE/BLESS - Gretchen
GROUP/ROOM 5 - HALLELUJAH/FIRE - P. Lynn (if time)
GROUP/ROOM 5 - LAMB/BLOOD- P. Lynn (if time)
You'll have about 15 minutes to work together with these particular words. I will give specific instructions during the conference. It will be a fun way to creatively learn some expressive movements! If we have more time, we'll do more words.
Related resources that you may appreciate (found in alphabetical order on the page):
Expressive Worship and Sign
Expressive Worship and Sign II
More Expressive Sign
Expressive Worship and Dance
Worship Expressions and the Solo Dancer
This will be one of the ministry activations where Zoom will break you up into 4 groups. Each group will be assigned the respective stanzas below, to interpret. Once in your group, you will only have time to have one person read your segment, so you will have a general idea of what it is about. Please read through the whole thing before the conference again to get a general sense of the words. You won't know what group you'll be in, until that moment, but it would be good to be familiar a little ahead of time.
When everyone returns from being in the groups (only about 3 minutes in - just enough time to read it), then we'll play the music and when it is your group's turn, you all will depict the words to the best of your ability. You are welcome to use props if you have them. It doesn't have to be perfect, because it is kind of spontaneous. You will be just ministering the general idea of the words as you hear them. Then you'll pause and I will do the chorus each time (where it says, P. Lynn).
This is going to be powerful ministry to those in the other three groups who will be watching, as I'm sure we can all relate to something the characters have felt.
GROUP 1
Hagar was a single mother
She was abandoned by the family she belonged to
And there in the wilderness with her son alone
With very little provision
She was wondering
She was questioning
Does anyone care?
She's crying in the desert
She's lost in her despair
She thinks nobody loves her
Hagar thinks nobody's there
But God says
P. LYNN
I will be a ring of fire around her
And I will be the glory in her midst
And the power of my presence
Will bring her to her knees
And I will lift her up again
For I'm the God who sees
I'm the God who sees
Then He speaks in gentle whispers
And He softly calls her name
She feels His arms enfold her
As He holds her
And she'll never be the same
'Cause I'm the God who never changes
And My promises are true
And when this world deserts you
This is what I'll do
GROUP 2
And there is another woman named Ruth
She was from the land of Moab
And she was met with grief and heartache
She was a widow and she lived with her mother-in-law, who was also a widow
And now it was time to move on
But Ruth had never been to Bethlehem
She had never tasted of the House of Bread
But now she had heard an inner invitation to come and taste and see
And so she vowed herself to her mother-in-law
And she said where you go I will go
Where you lie I will lie
Where you die I will die
And she begins a journey to the Promised Land
She's traveling through the desert
And she's leaving her despair
She's hoping for a future
Praying God will lead her there
And He says
P. LYNN
I will put a ring around you finger
And I will bless a child within your womb
And the Savior will be born through you
To free the world from sin
And He'll make all things new for you
And love you back to life again, again
GROUP 3
And then from Ruth who gave birth to a son
Obed who gave birth to a son
Jesse who gave birth to a son
Named David
Now the same, once shepherd boy
Mighty warrior, anointed king is alone
Terrified in the darkness
He's hiding in the desert
He's battling despair
David thinks his life is over, it's over
And God, He doesn't care, But God says
P. LYNN
I will be the Rock of your salvation
I'll hold you up by the strength of My right hand
And the power of My Spirit
Will free you from all fear
In the hour of your deepest need
You'll find that I am near
I am here
And I will be a ring of fire around you
And I will be the glory in your midst
And the power of My presence
Will bring you to your knees
Then I will lift you up again
For I'm the God who sees
GROUP 4
And then from the line of David
Finally, Jesus the Messiah
The Anointed One, Yeshua, the Christ
Born in the same House of Bread to be the Bread of Life
In the town of Bethlehem
And He would grow
And He would be called the Son of God
He would be called Emmanuel, God With Us
And He would heal, and He would reveal
And then He had an encounter with a woman
Named Mary of Magdalen who was plagued by demons
Tormented by evil spirits, and Jesus set her free
And Mary followed Him, she listened at His feet
She served Him, and she loved Him
Oh how she loved Him
But then she watched as they nailed Him to the cross
And as they placed His body in the tomb
In that moment her hope died, it died
She's crying in the garden
She's broken in despair
She's searching for her Savior
But His body isn't there
Then He says, Mary
P. LYNN
Glory, glory, glory, Hallelujah
I will be the glory in Your midst
And every knee will bow to Me
And every tongue confess
Yes all the world will worship Me
In all My Holiness
I will be a ring of fire around you
And I will be the glory in your midst
And the power of My presence
Will bring you to your knees
And I will lift you up again
For I'm the God who sees, who sees
I'm the God who sees
Oh I'm the God who sees, I see you
I'm the God who sees you in your wilderness
Sees you in your brokenness
When you're feeling lonely, I'm the God who sees
In the desert places, in your empty spaces
I'm the God who sees
I'm nearer than you dare believe
Here in the very air you breathe
I'm the God who sees you
We will be breaking up into 3-4 groups (Zoom will randomly pick) and you'll go into the respective breakout rooms. This is a fun way to learn where dance is in the Bible and why we dance before the Lord! We will do at least the first 3 words, but should time allow, possibly more.
This conference activation sheet shows a very small excerpt taken from the Dance, Dance, Dance book and it is also shown on the Dance, Dance, Dance video.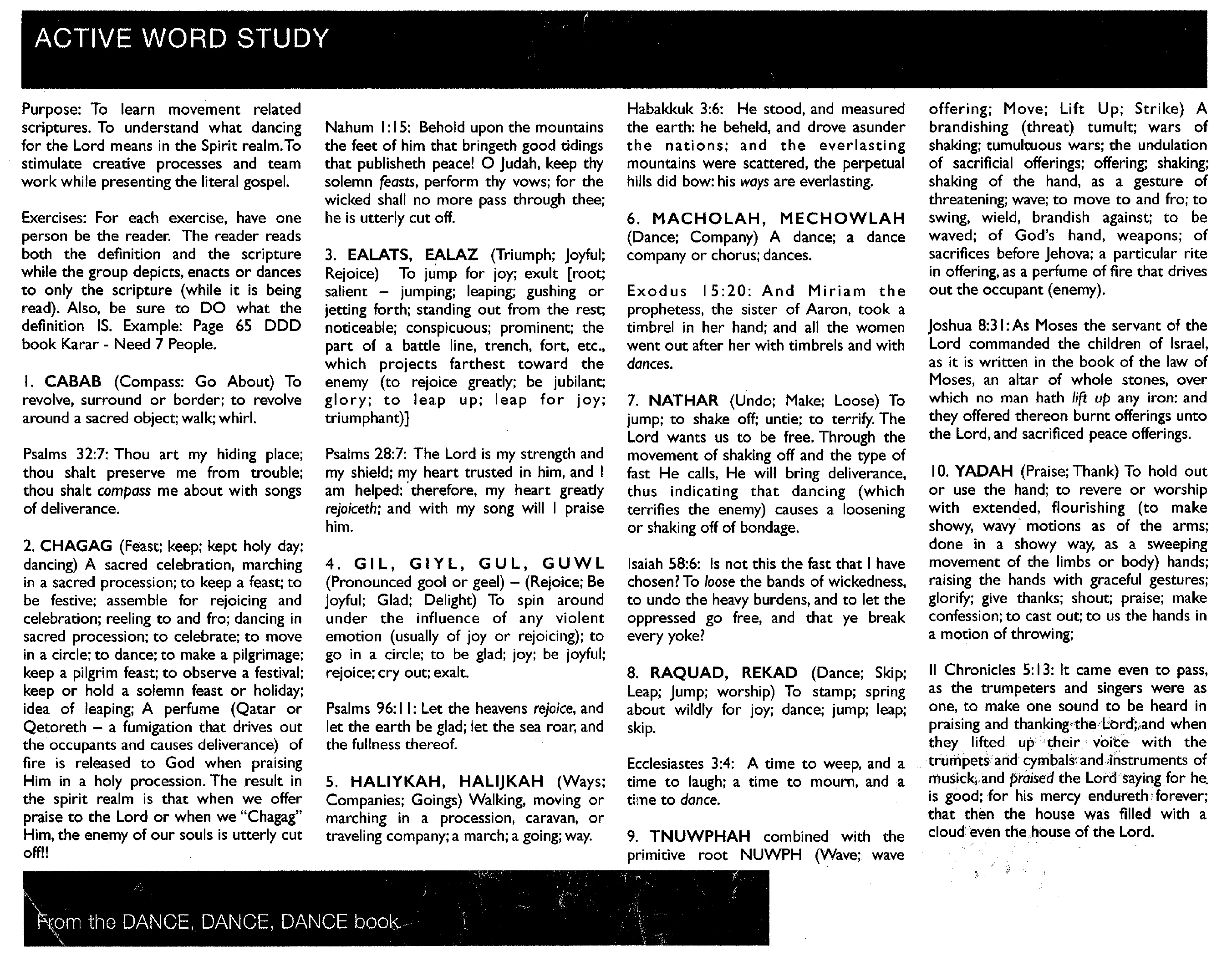 ---
OTHER CLASS/TOPICS IF TIME...
Out of the mouth of babes and nursing infants, You have [a]ordained strength, Because of Your enemies, That You may silence the enemy and the avenger. Psalm 8:2 NKJV
Let the high praises of God be in their mouth, And a two-edged sword in their hand, To execute vengeance on the nations, And punishments on the peoples; To bind their kings with chains, And their nobles with fetters of iron; To execute on them the written judgment— This honor have all His saints. Psalm 149:6-9 NKJV
For the weapons of our warfare are not [a]carnal but mighty in God for pulling down strongholds, 5 casting down arguments and every high thing that exalts itself against the knowledge of God, bringing every thought into captivity to the obedience of Christ, 2 Corinthians 10:4-5 NKJV
Finally, my brethren, be strong in the Lord and in the power of His might. 11 Put on the whole armor of God, that you may be able to stand against the [a]wiles of the devil. 12 For we do not wrestle against flesh and blood, but against principalities, against powers, against the rulers of [b]the darkness of this age, against spiritual hosts of wickedness in the heavenly places. 13 Therefore take up the whole armor of God, that you may be able to withstand in the evil day, and having done all, to stand. Ephesians 6:10-13 NKJV
10:07 Mushroom
14:31 2 Cloths
20:52 Multiple Cloths
26:20 Cloths plus Dancers
29:13 Starburst
29:28 Exit
33:13 Cross
Mirror & Echoes
Planned Spontaneity
Group Shapes
NSEW
Body Sculpting
Unison in Movement
Background/Foreground
Team: A group of people working together in a coordinated effort; to join in a cooperative activity; people who individually subordinate personal aspirations and work in a coordinated effort with other members of a group, or team, in striving for a common goal.
Love
An undefeatable benevolence and unconquerable goodwill that always seeks the highest good of the other person, no matter what he does.
1. Be willing to be spontaneous. Have spiritual acumen (sharpness, or quickness of understanding). During praise and worship, be aware of what is going on around you naturally and spiritually. Leaders—listen to the Spirit of God for changes in the service. Watch for directions from the leadership and worship director. Members—watch for the dance leader's directives. Be aware and on top of any changes the leader may give you.
Joy
Rejoice, be glad, be joyful. To spin around with intense motion. Dancing or leaping for joy.
2. Don't get upset when you are chosen to do "just flags" or "just cloths." It may be a test of your character, or the leader may need more experienced people to make sure that the flag part is done at the right time with good timing. It may be that the flag part is the most important part in the dance.
Peace
Completeness, wholeness, health, welfare, safety, soundness, tranquility, prosperity, fullness, rest, harmony; the absence of agitation or discord.
3. Dance members, try to avoid helping too much. Let the leader work through the choreography. Sometimes it takes development and time. If you do make suggestions, be mindful of how they are presented. Perhaps seeing the leader after practice would be good.
Patience
Long suffering, lenience, forbearance, fortitude, patient endurance, the ability to endure persecution and ill-treatment. It describes a person who has the power to exercise revenge but instead exercises restraint.
4. Don't strive for position or leadership. When it's obvious that you are striving for it, that is a sure sign to leadership that you are not ready for it. Be humble and submissive and serve genuinely. Be faithful in the little things (set up, clean up, etc.) with a loving attitude and eventually, (through patient endurance) you will be raised up. Check your heart motivation.
Goodness
Kindness in actual manifestation, virtue equipped for action, a bountiful propensity both to will and to do what is good, intrinsic goodness producing a generosity and a God-like state or being. Combines being good and doing good.
5. Be willing to silently bring out or put away props. Will to do good especially without expecting reward or recognition. Offer to fold the cloths or wrap the flags or hang up the costumes. If you have the opportunity, and access, just do it without asking. Surprise your dance leader with a clean and organized wardrobe/prop closet.
Kindness
Love for mankind, hospitality, readiness to help, human friendship, taking thought of others, lovingkindness toward men, goodness in action, sweetness of disposition, gentleness in dealing with others, benevolence, affability. The word describes the ability to act for the welfare of those taxing your patience. The Holy Spirit removes abrasive qualities from the character of one under His control.
6. Show lovingkindness to those team/family members who are, at times, not kind. They may have had a really hard day or life. Your simple act of kindness may crack their shell of insolence and, bring forth the deliverance they need. Don't wear your "heart on your shirtsleeve." Declare that: I will not receive an offense for any reason at any time!
Faithfulness
Firmness, stability, fidelity, conscientiousness, steadiness, certainty; that which is permanent, enduring, steadfast. To be firm, sure, established, and steady. Certain, stable unchangingly fixed.
7. If you are an advanced dancer, do not skip practices once you feel like YOU know the dance. Your leader needs you especially, to see how it all fits together. If you miss (and there were changes), then the leader has to spend extra time with you. Leaders, it may be good to set guidelines for required practice times.
Gentleness
A disposition that is even-tempered, tranquil, balanced in spirit, unpretentious, and that has the passions under control. Meekness (power and strength under control). The person who possesses this quality pardons injuries, corrects faults, and rules his own spirit well.
8. Work on the part of the dance that you do have. Come at least partially prepared at practice even if you don't have the whole dance. This avoids confusion and the feeling of being "frazzled" or loose-ended. Be tranquil. Practice and complete a section during a practice time. This makes the team feel good—like they accomplished something (because they did!).
Self-control
To control of one's self, or of one's own emotions, desires, actions, etc.
9. Never question or doubt what your leader says (especially) in front of the other team members. If your question is not answered by the end of practice, then quietly approach your leader on the side and pose the question or suggestion. Do not be offended if your suggestions are not always accepted.
Don't Just walk on stage haphazardly (cutting up and not standing in ready position).

Do Enter in an orderly, reverent manner. Be well rehearsed.
Don't Make people wait a long time while you get to the platform.

Do Be ready to go, so service runs smoothly.
Don't Show impatience with the sound man (rolling of the eyes, using hand motions to move him along more quickly, Etc.). Do Have patience with the sound person. While waiting for music to begin, hold your position.
Don't Have a sloppy appearance. Do Have a nice neat appearance with uniformity in dress. Everyone in the dance should have either ballet shoes or bare feet (not some in shoes and some, not).

Don't Adjust costume, fix hair, or rub eyes, especially while you are waiting in place for the music to begin, as the congregation's eyes head straight for your movement (however small and insignificant it may seem).

Do Make sure your costume is situated before you go on. If a part of the costume should fall off, make the best of it as if it never happened, and the congregation will soon forget there was a problem.

Don't Chew gum!! It's distracting and hazardous to your health (should you jump and choke on it). Do Smile from your heart.

Don't Sing when doing a presentation dance. The congregation will look directly at the person who is singing and may miss the message of the dance. Do Know the song and sing it in your heart.

Don't Goof and let your face show it, or fix your mistakes in the middle of them. Generally, the congregation will never know you made a mistake unless you tell them with your expression of dismay or by obvious corrections. Do Keep moving and smiling as if nothing had happened.
Don't Do a solo with more then one person. In other words, having two or more people doing all the same movements all at the same time, all the same way, in the same direction. That is boring. Do Vary your movements.

Don't Have a sloppy ending. The ending's value is about almost fifty percent of the dance. The audience wants emotional satisfaction. Do Practice the ending of the dance. It is very important because it is the last thing the congregation remembers! Be sure to work on it extensively as the viewers may forgive and forget mistakes in the beginning and middle if the ending is good.

Don't Exit by: just walking off and talking to each other; finding your seat; or maybe waving to someone in the congregation, Etc. It's a good idea to exit while they are still clapping, as it is rather anticlimactic to exit while the church is ready to move on to other things and they're just waiting for you to get out of the way. Do Plan your exit. Have uniformity and order. Maintain an attitude of worship until you are out of sight.
Based on Laban's Analysis of Movement; found in the Dance Composition DVD and the Divine Choreography Tips and Techniques Book.
Divide into 8 groups (OR 4) - Each group will do 2 counts of 8 of the following:
GROUPS 1 AND 2 - ACTIONS OF THE BODY
1. Gesture, leading into a turn

2. Travel into balance
GROUPS 3 AND 4 - SPACIAL ENVIRONMENT
3. Start with very small movements and increase in size to very large

4. Intersperse large and small movements
GROUPS 5 AND 6 - RELATIONSHIP
5. Move from a single row, to two rows, to three or four rows

6. Move in Succession
GROUPS 7 AND 8 - QUALITIES OF MOVEMENT
7. Release all tension and collapse

8. Make a series of bound and sudden or sharp movements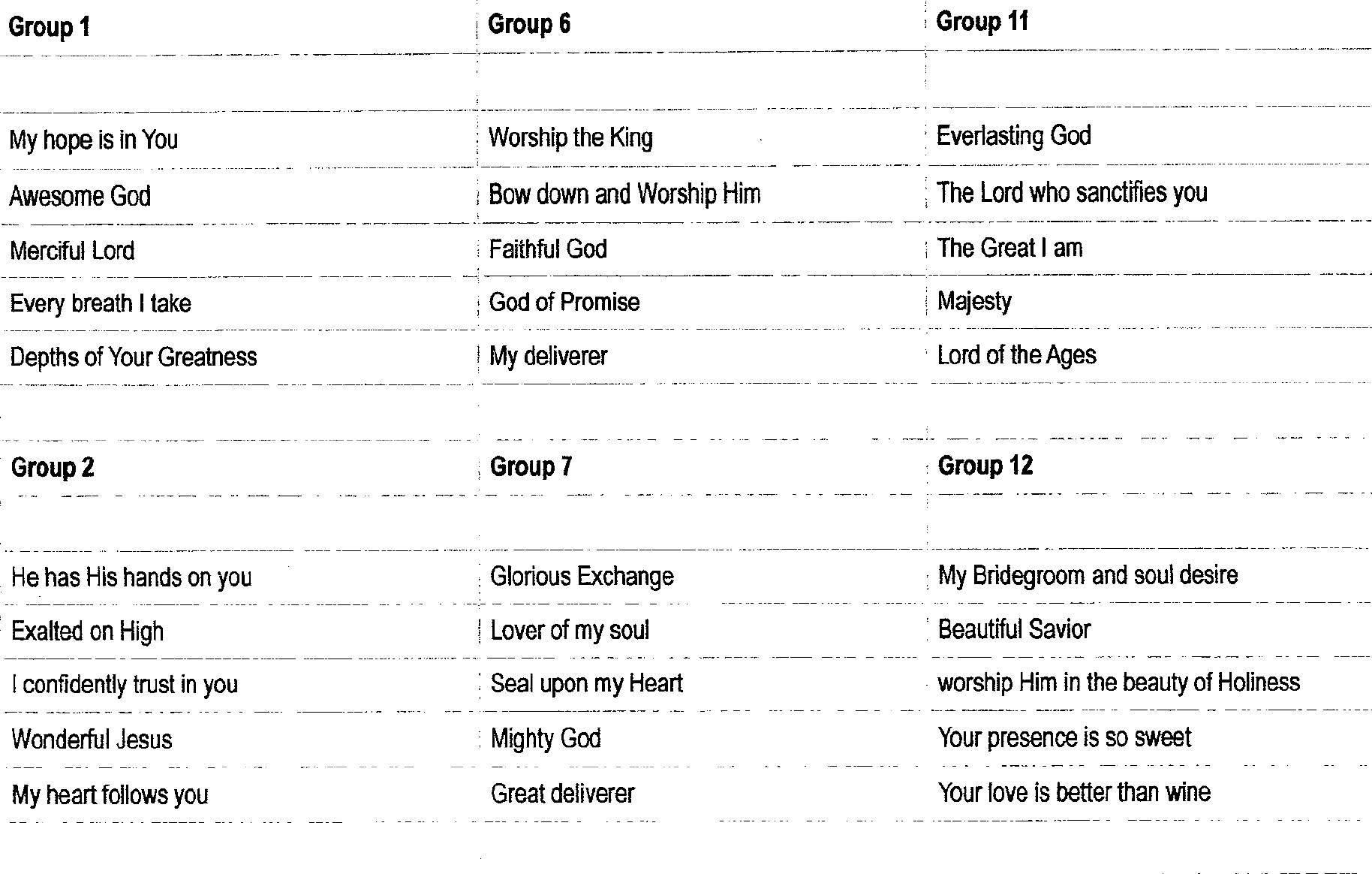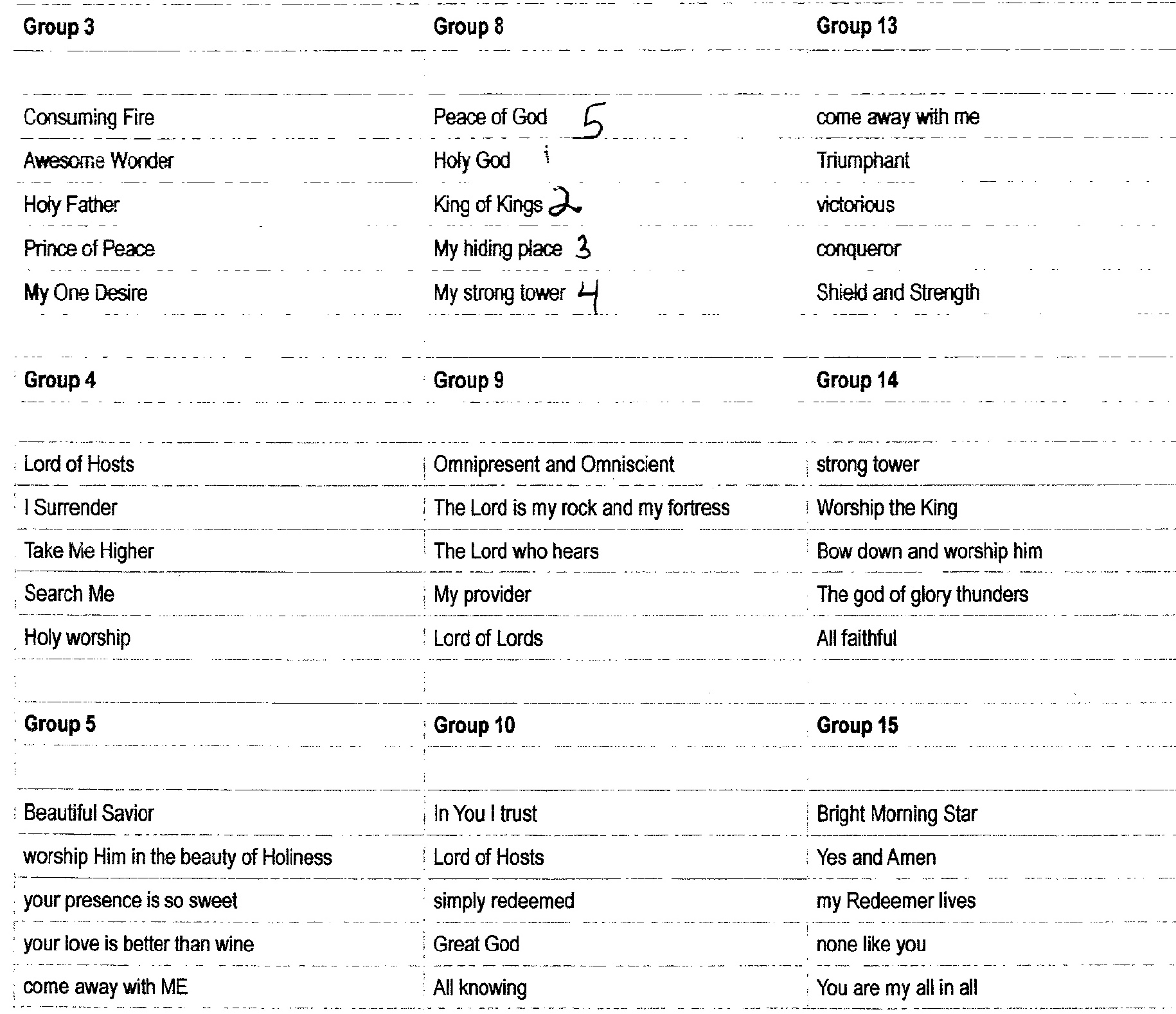 ---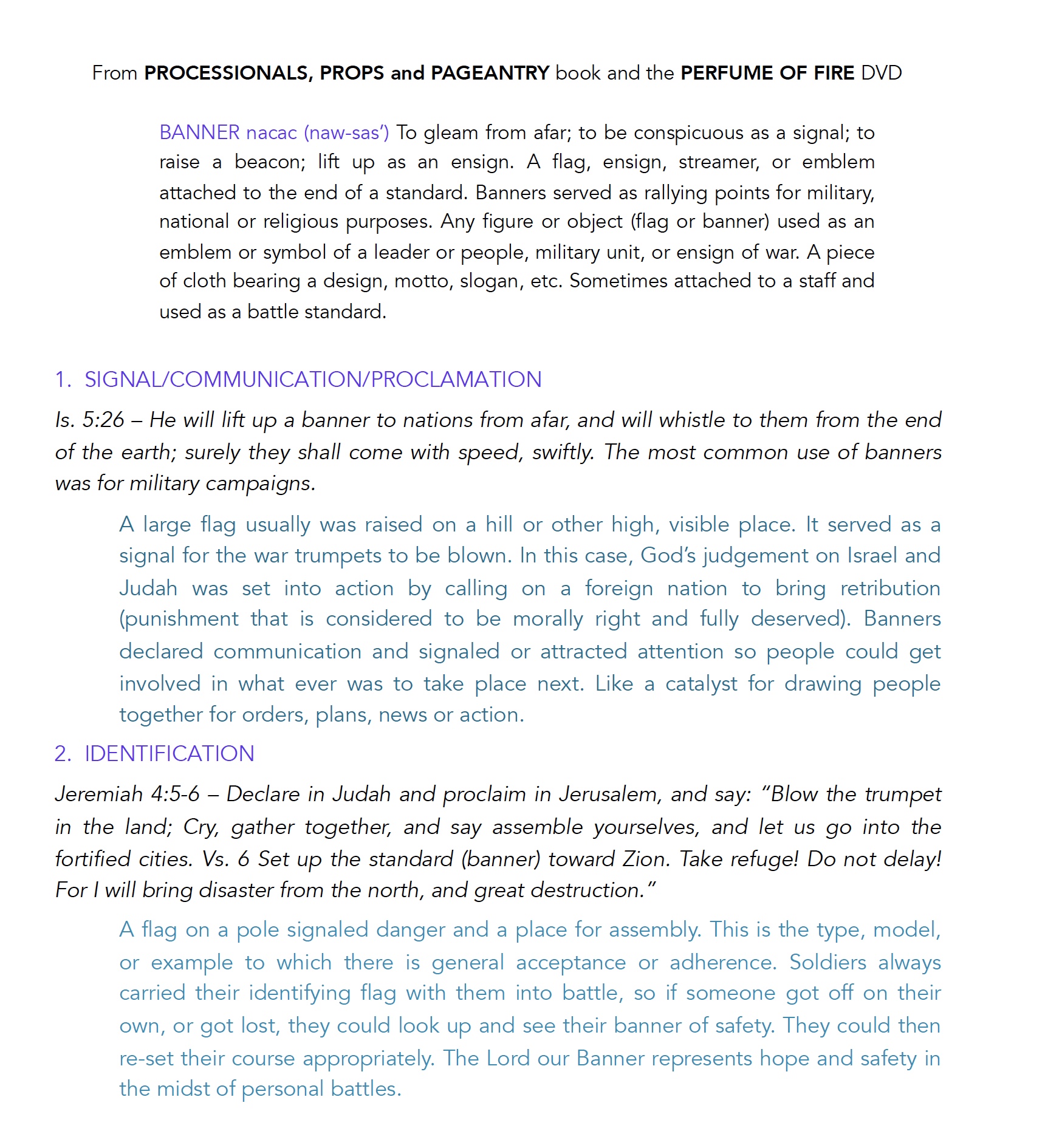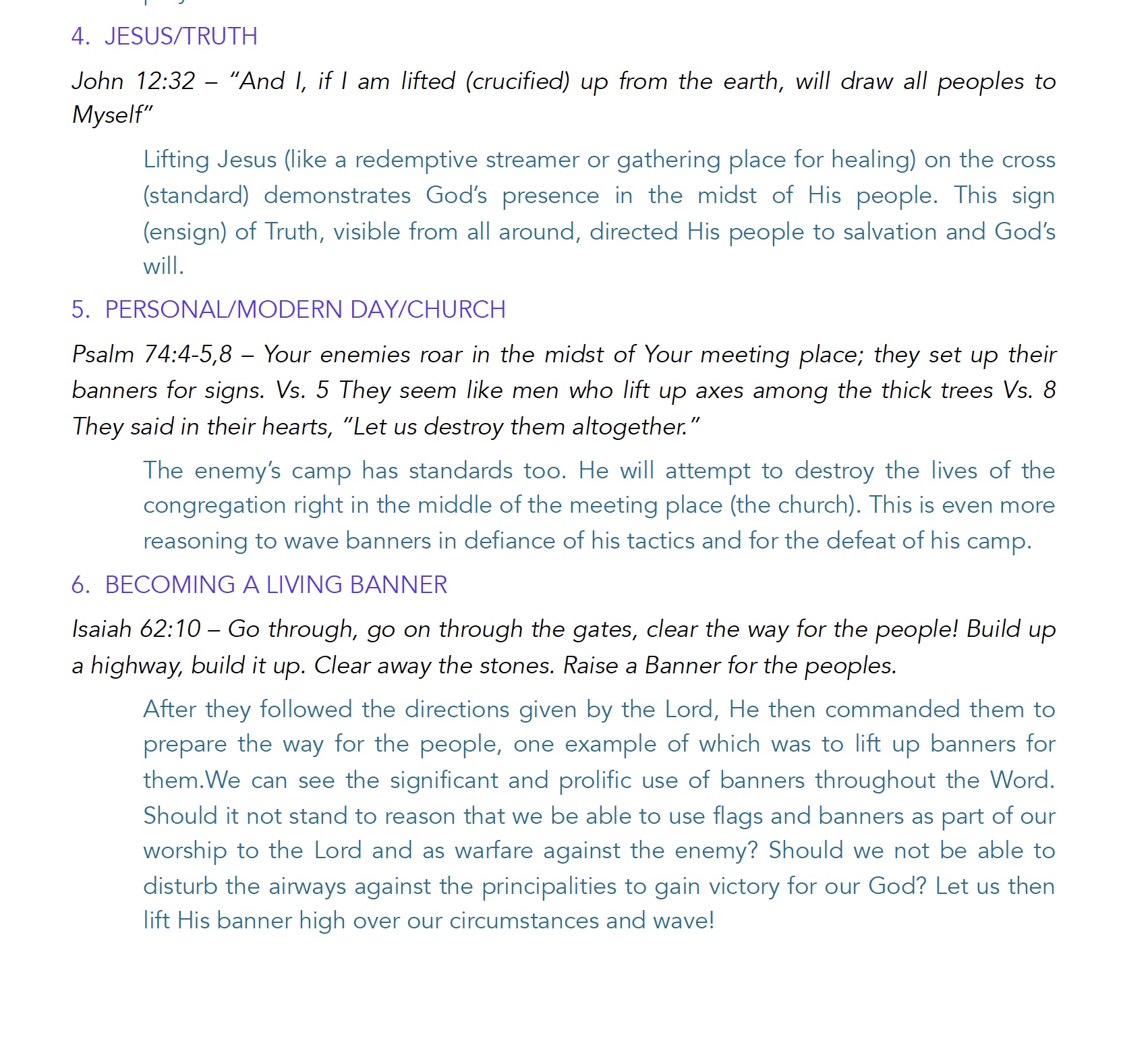 May the blessings of the Lord overtake you!