LEVEL 2 - Dance Ministry Leadership Course - Dance Ministry LEADERSHIP Certificate with Optional LICENSER
---
Level  will be about covenant and a closer relationship with DFH. It is a deeper commitment to the ministry. 
Requirements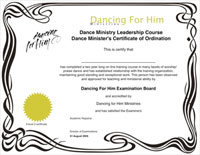 The same requirements as level 1 as well as completion of level 1 plus: 
We'll do phone/ichats bi-monthly. Lord willing, this will be the 2nd and 4th Sunday nights of each month from February - October (from 7-9PM EST). There will be times this will change, in which case, you'll be notified by email. If you absolutely can not make it to the call, you may go back, with in two weeks and listen to the recording.
There will be more written assignments and video uploads than in level 1, including, but not limited to a final dissertation on a worship dance topic of your choice. Any and all essays may be placed as examples in DFH newsletters, web site or blogs. You'll research and write about: Garments of Praise; Flags/Banners; and Prophetic Dance.
There are 8 wonderful bible lessons on worship, by Wil Bozeman. These lessons will be found on the Level 2 information page (received after registration). The student will create an activation for each lesson and upload it to the private FaceBook page. 
Level 2 students will be required to attend at least two DFH conferences/events (at their own expense) with the intention of serving and teaching a portion of a DFH class there. The first conference the student will teach either a portion of or 1 full topic. The 2nd conference the student will teach 1 full DFH topic plus a portion or all of a 2nd topic, under the supervision of Pastor Lynn. This will depend on how many students come to that particular conference, as the topics will be divided among them.
Level 2 students will help minister (pray/prophesy over people) at the two conferences, during that calendar year.
After completion of that 2nd year, there will be a graduation conference for all the teachers (all levels who are registered for the programs) and each level 2 teacher may possibly teach at least one of the classes and teach a portion of one of the dances on the end of one of the DFH DVD's. This will be the first conference, in the new year, after you will have completed your course. So you would not have to pay the registration fee for that one. You may need to pay a nominal fee for a garment for a video that may be produced.
Upon successful completion of the entire two year course, you will receive a Dance Ministry Leadership Course Certificate. This will stand as Dancing For Him Ministries' approval of your ability to teach the subjects you will have learned. This also certifies you as a Worship Dance Minister, able to minister the Father's Heart through dance or the arts. This certificate carries a lot of weight and will serve as a solid credential to enhance your credibility as a worship dance teacher/leader/minister.
There is an extra helpful 9 lesson bible study about leadership, where again, you'll create an activation for each one. This is required for those who desire a closer relationship with DFH and Licenser. This is equivillant to being a Deacon in the church. So, likewise then, you would be a closely connected DFH servant/leader.
The program will go according to a calendar year, beginning February 1st and ending October 30th. While you may register any time after January 15th, you will automatically be considered a student for the following school year. All must be registered on or before January 15th. If you can not register by then, we will ask that you kindly wait until the following year to register. Level 1 and Level 2 must be done concurrently. You may not skip any years before begining Level 2.
All assignments must be turned in by the end of each semester as your course outline will show. It is imperative that all assignments be turned in on time. Any students who turn in assignments after the end of the particular semester will be invoiced a $50 grading fee. All grading fees must be paid before the end of the school year or you will not receive your certificate. This will be a time to learn discipline and avoid procrastination, which is a good leadership trait anyway. It is preferred that you steep yourself in the information (not just skim through quickly at the end to get the certificate) and spend time getting to know the other students and Pastor Lynn. It is an intense course and having the discipline to turn your assignments in on time will help you be relieved of any pressure at the end of the year.
To do well, you'll want to set aside about an hour a day, five days a week. Just like brushing your teeth or eating, creating a habit of setting aside that time will get you through successfully. Life will always crowd things out, unless we make a determination for disciplined success. You will be glad you will have made the effort! 
You may register early (before February 1st and may begin studies), however we ask that you not turn in any assignments until they are due. This will allow you to get ahead a little, which you will so greatly appreciate. 
Benefits
You'll be trained, equipped and prepared to teach, minister and equip others in worship/praise dance.
There will be opportunities for you to become a DFH wholesale representative, should you choose, where you may earn financial support for your ministry. 
You'll establish long lasting relationships with other industry leaders.
You'll grow spiritually, emotionally and physically in this life changing program.
After graduating, should you like to attend another DFH event, where Lynn is teaching (except for the Retreats), registration fee will be waived for life.

 However, you must register on or before the 'Early Savings Date.' Otherwise, should you register later, only the amount of the early savings will be deducted from your registration fee. You'll receive a code to register. 
Registration
The tuition, in addition to your conference and materials fees, is $500. There will be absolutely no refunds or extentions of the program. If you are unable to complete the program, for any reason, the tuition will be a donation to DFH. All assignments (no matter when you join the program) must be completed by October 30th of that year. Upon successful completion of that year's program, you will receive a Dance Minister's Certificate and in September of that year, may apply for a Dance Minister's License. This will stand as Dancing For Him Ministries' approval of your ability to teach the subjects you will have learned and minister the Father's heart through the arts. 
To register, please click on the link below and enter the appropriate quantity in the box and click Buy Now. Please be sure to seek the Lord about this commitment to your future as a minister/teacher of worship/praise dance. 
As soon as you register, we will begin a folder for you and keep track of your progress. Also, after you register, we'll send you the link and password for the Facebook page where you will communicate regularly with classmates and Lynn, as well as upload video assignments. We will send you the new course outline through email. Remember, you must complete Level 1 before joining Level 2.
"PRE" - Payment Plan
Those who desire to join the Dancing For Him On Line School in February, may make payments in $100 increments before school begins.
This option is available from January 16th - January 15th.  Payments must be completed on or before January 15th. There will be absolutely no exceptions nor extensions. The payments are non-refundable. Therefore, if you do not complete your entire tuition by January 15th, what will have been paid will become a donation to DFH. I strongly suggest beginning early, if you plan on going this route. 
You may make your pre-payments in multiples of $100 by putting a 2, 3 or 4 in the quantity box. 
Tuition must be paid in full before you begin. 
We will put your name on a secondary roster and keep track of your payments. Once you have completed your payments to pay your tuition in full, then we will create a folder for you and put you on the primary roster. You will then also receive your welcome letter, student information page link, private Facebook page and chat phone number. 
Thank you for embarking on a wonderful journey into the realm of worship dance. May the blessings of the Lord overtake you!
Click HERE to register.  
Words from some of the students who have completed the entire course...
"If I had to do over, I would do this course all over again because it forever changed me and the way I view dance in ministry.  I knew dance was powerful, but this course made me take the time to study in depth the deep, Biblical significance of dance as well as expand my knowledge of choreography, and how to lead others in dance, no matter what their skill level is.  This course also reawakened my love and creativity for writing that I know the Lord wants me to use.  I really appreciated the accessibility of Lynn to ask questions via email and phone chats, as well as hands on experience of teaching with her at her conferences.  Even after being in dance ministry for 25 years and performing with several, professional dance companies, this course had much for me to learn!  I highly recommend it to dance leaders, complete beginners, and professionals alike because you start learning at your own unique level, and grow from there!" - Nanette - FL
---
Upon finishing up the Level 2 of the Dancing for Him course, I feel more equipped in leading the dance team at my church.  In fact, I did not even have a dance team when I started Level 1, and now I lead a team of 11 dancers!  Not only did I learn new choreography steps and skills, but also how to deal with the leading a group of dancers, the different struggles a team may face and new ideas and concepts to apply.  I have gleaned from Pastor Lynn's experience and wisdom in these different areas and I am grateful for this.  And through the school, I have connected with the other students whom I know will be lasting friendships.  We are able to support each in our dance ministries and share our joys and struggles.  It was wonderful to find others who share the same passion. Renee - MA
---
My experience with the Level 2 Dancing for Him online school has been more wonderful than I could have ever imagined. After the completion of the my 1st year I immediately knew that I was to take the 2nd year as well.
The 2nd year was so different than from the 1st year with the addition of more writing assignments, and truly anointed bible studies that brought forth amazing creative thinking skills that I didn't even know were there.
Upon completion, I was a little sad that I was finished but I also was left with a great abundance of joy, for I know its not the end but only the beginning of Gods great plan for my life. I am truly thankful for Pastor Lynn and her unending, dedicated and hard work that she put into both the level 1 & 2 course, it was very obvious that her desire was for each of us to be able to reach our highest capabilities in dancing for Him.
 Annie - GA
---
The Dancing For Him two-year certification/licensing program is excellent in its structure.  Lynn Hayden's video course syllabus is designed in such a way that both dance technique and biblical principles are accurately taught, providing both the beginner and experienced dancer concise instruction in ministry dance.  The online structure connects students to one another and provides an environment for encouragement and friendship - "iron sharpening iron".  More than "book learning", Pastor Lynn is personal in her approach and shares 30+ years of experience in team ministry.  Twice monthly conference calls allow for that ''group-on-one" time to discuss today's relevant issues regarding team ministry.  If your heart is in dance ministry, I whole-heartedly recommend 'sharpening your axe' with Dancing For Him.  You will complete this course equipped to minister the heart of Father at your highest and best!  Kristen - MO
---
The second year program was even better than first year!!  Pastor Lynn really challenged my creative abilitites through the assignments and our teaching abilities at the DFH conferences!!  I have learned so much regarding dance ministry on a variety levels from the phone chats, homework assignments, and conferences attended.  It has been an awesome time of impartion and equipping for me to become a more confident dance minister and leader.  Thank you Pastor Lynn!! Tyhisha - GA
---
It has been a wonderful journey in completing the two years' Worship Dance Teaching and Dance Ministry Leadership course under Pastor Lynn Hayden (founder of Dancing for Him Ministries and its training school).  Pastor Lynn is such an anointed teacher and mentor to me and she took me to the level I could never imagine I could achieve in ministering to the Lord in dance and worship. With the wide coverage of different subjects, it provides me with capacity not only to teach and to create dance for Him with dimensions and variety, but also to have opportunities exploring and researching the different creative topics through creative assignments and video uploads.  With study and activation of pillars of leadership covered in the second year, I felt better equipped for leading a dance ministry.  With regular emails, facebook and bi-weekly phone chats, the sharing, encouragement and support I received definitely propelled me to step forward for serving Him with excellence.  If you want to be a worship dancer, worship dance teacher, leader or minister, this course can definitely provide you with what you need and even more than what you expect.  I have to say I grow spiritually in dance during my learning journey with Pastor Lynn for these two years. - thanks and blessings, Monita
---
I am a 2nd year student in Pastor Lynn's on line school and I have grown. I know that I have been called to the dance ministry and the Lord started to speak about what He wants to do to His people through me but the magnification of these words were amplified when I joined the dance school. I am amazed to see myself teaching dance because I thought that I was to only dance and thats the limited mindset I had. Now I have passed that stage and am eager to help other dancers come into their full potential. I have not arrived but Dancing for Him school is enabling me to feel free in not only operating in the gift but feel free in encouraging and helping my fellow dance mates develop boldness as we dance unto our king naked and unashamed for His glory that people will be set free, delivered, healed and encouraged. So go ahead and prayerfully consider to join and becoming more skillful. Josephine - NY
---
I have just finished my second year as a student of Pastor Lynn Hayden's, Online School of Dancing for Him Ministry.  This year has been filled with new experiences of learning, to be a team member (more like a family) of amazing ladies. We all had the same assignments and the same time frame in which to finish, so when a challenge would arise we could call on one another for help ! I did enjoy learning all the different ways The Spirit can speak to us through the dance and that we can hear the Fathers Heart to ministry to others. I really like Modern Dance, Artistic Ministry with Billows and Flags.  Active Word Study is exciting when we can take scripture with Greek, Hebrew or English words and watching groups act out Or interpret the meaning of those words. My very favorite scripture assignments were the Pillars of Leadership written by Wil Bozeman.  I love to study the Word and share with others. Pastor Lynn Hayden a powerful women of God, who walks the walk of righteousness, is always there for us whenever we have questions or call with a lesson problem.The very best of all was developing a deeper relationship with the Lord through worship dance, experiencing His anointing while worshiping. Carolyn - KY
---
Loved completing the second level of DFH online school. It was more in depth with more reflection of what it will mean for me to be a dance minister. I know and can confidently say because of my training with DFH that I am called to dance for Almighty God and have so many more tools to use in that calling. I am so grateful that Father God caused my path to cross with Pastor Lynn Hayden and all the women I am graduating with this year. I know we will be friends, peers, and confidants for years to come. Love you, Kati - GA
---
This is my 2nd year in the dancing for him school and this school has bless my life and my dance ministry above and beyond measure. I'm so thankful to be in the dancing for him school under the leadership of Pastor Lynn Hayden a powerful woman of God. I have gain great spiritual wisdom and knowledge  from Pastor Lynn.I have learn so many different teaching such as new choreography, prophetic dance, and so much more. The study activation I love because you learn the word of God while you learn about dance. I have grown so much through the dancing for him school it was a challenge but it made me a strong leader. I thank God for this school and my leader I feel so bless Tari - GA 
---
Here are just a few examples of assignment uploads for level 2.