LEVEL 1 - Teacher's Training Course - WORSHIP Dance TEACHer's Certificate
---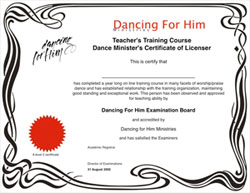 Level 1 is about on going relationship with deeper understanding and communication. The purpose is to receive adequate training, understanding and experience in order to be a capable teacher of worship dance and/or to improve your ability while growing in a deeper, greater knowledge of your call as a worship/praise dancer. Upon successful completion, you'll receive a Worship Dance Teacher's Certificate.  
Requirements 
Purchase all 36 of the DFH products or complete your library (of the most current versions) before July of your current school year. That is the 28 DVD's and 8 Books.
Complete your full payment for the course before you begin (details below).
Once you fully register and after November 15th, you will be given your course outline web link with detailed instructions. Not only will you study (during a specific completion timeline), write about and review each product, but you will be asked to do (not just watch) some of the more active topics (ballet, modern, stretch etc.). There will be certain time frames where you will work on several subjects simultaneously. Your video assignments will be uploaded to a private Facebook page. Your one page written essays will be sent via email and 3 sentence evaluations of each product will be uploaded to the DFH book store in two places. So you must be able to understand these on-line vehicles. 
You will be asked to join in on our bi-monthly, group discussion phone chats through "Talkshoe." If you can not join in with us on the selected date, you will need to listen to the recording within a two week period of time. 
You will be asked to write in one worship dance related question per month that we will discuss during the phone chats. These should be questions that have been on your heart related to team concepts/issues, presentation techniques, choreography and/or ministry. They may also be related to the current topics about which you are studying. 
When we study Choreography and Dance Composition, Creative Worship,  and others, you'll be given video assignments respectively. You'll have a place on a private Facebook page where you may upload your video assignments for peer review. To the right are some nice examples.
From the time you register, within your school year, you'll be required to register and attend at least one DFH event, where Pastor Lynn is teaching, (at your own expense) with the intention of serving the ministry. This could be at the registration table, helping to set up/break down, selling the products, counting off groups for the activations and possibly assisting Lynn with some of the demonstrations. Students outside US boarders are excused from attending, but are encouraged to come.
All graduating students are requested to attend the Graduation conference as well. You will not be required, but we hope that you will want to attend. After working with all the other students throughout the year, I'm sure you'll want to get together and this will be a great opportunity. If you will have successfully completed the year of study and assignments, you may serve at the conference, help with set up/clean up, do the registration and product tables, etc. It is also possible that you will be in the professional production of a new DFH video there. At the end, on Saturday evening, certificates will be awarded. This will always be the first conference of the year after you will have finished the course and may be in a different location every year. You will need to register for this.
Sometime within the calendar year, you'll be required to submit two letters of recommendation from people who will have seen you teach some form of dance (preferably a leader of some kind). Or one of the letters may be from your Pastor.
You will be required to send in your biography in an extended version. This would be something you could put on your own web site. Also, send a very condensed version that could be placed on a conference hand out. Along with that, send a nice head shot photo.
There will be a private Facebook page where you may communicate and share with others who are also going through the programs. 
The program will go according to a calendar year, beginning February 1st and ending October 31st. No students will be allowed to register after January 15th. All must be registered on or before January 15th. If you can not register by then, we will ask that you kindly wait until the following year to register.  If you do register anytime after January 15th, you will automatically be considered a student for the following year.
All assignments must be turned in by the end of each semester as your course outline will show. It is imperative that all assignments be turned in on time. Any students who turn in assignments late (after the end of the particular semester) will be invoiced a $50 grading fee. All grading fees must be paid before the end of the school year or you will not receive your certificate. This will be a time to learn discipline and avoid procrastination, which is a good leadership trait. It is preferred that you steep yourself in the information to learn and grow, while spending time getting to know the other students and Pastor Lynn. It is an intense course and having the discipline to turn your assignments in on time will help you be relieved of any pressure at the end of the year.
To do well, you'll want to set aside about an hour a day, five days a week. Just like brushing your teeth or eating, creating a habit of setting aside that time will get you through successfully. Life will always crowd things out, unless we make a determination for disciplined success. You will be glad you will have made the effort! 
You may register early (before January 15th and may begin studies), however we ask that you not turn in any assignments until they are due in the particular school year. This will allow you to get ahead a little, which you will so greatly appreciate. While you are more than welcome to begin studying all the books and DVD's and write your one page essays any time, please store them in a folder and turn them in when they are due. Please note, though, we will not be sending you a welcome letter with all the assignments, Facebook page, etc. until after November 15th, in case there needs to be any changes made to the information. 
Helpful Hints
During DFH conferences, the "One of Everything" product packs are always greatly reduced in price. So, if you attend a conference before school begins you may purchase all of your school study materials at a discount. Also, in the section of the book store called, "Quantity Pricing on Worship and Praise Dance Resources," the One of Everything pack is also discounted. So you could save by getting it there. Periodically, during the year, especially after Thanksgiving, there will be very good specials announced to those on the email mailing list. You may sign up for the free news letter under the purple column, on this page where it says, "Join our email group on inJesus."
Another helpful hint is if you already have some of the current products, you may begin to write an essay on each one (to prove you will have read or watched the entire product) and store it until it is due. This will save you time during the school year too. Then just complete your library of products. 
You must successfully complete level 1 before going on to level 2.
Registration
The tuition for level 1 is $500.  This does not include your study materials. This does not include your conference registration. All tuition must be paid in full before beginning your program. There are absolutely no refunds and no extensions to the following year. All assignments must be completed by October 31st of that year. If you are unable to complete the program, for any reason, your tution will become a donation to DFH. If you need to repeat the program, you will be required to register again. Upon successful completion of that year's program, you will receive a Worship Dance Teacher's Certificate. This will stand as Dancing For Him Ministries' approval of your successful completion of a rigerous course of study about the various subjects related to worship/praise dance. This certificate carries a lot of weight and will serve as a solid credential to enhance your credibility as a worship dancer.
Shortly after you register, we will send you the course outline, FB page and chat information. This will be sent after November 15th and before January 31st. We'll also begin a folder for you and keep track of your progress. Although, again, please only turn in assignments when they are due. Thanks. 
"PRE"- Payment Plan
Those who desire to join the Dancing For Him On Line School in February, may make payments in $100 increments before school begins.
This option is available from February 1st through January 15th. Payments must be completed before January 15th. There will be absolutely no exceptions nor extensions. The payments are non-refundable. Therefore, if you do not complete your entire tuition by January 15th, what has been paid will become a donation to DFH. I strongly suggest beginning early if you plan on going this route.
You may make your pre-payments in multiples of $100 by putting a 2, 3 or 4 here in the quantity box (that is the link to where you may make payments). In other words, the check out process recognizes how many $100 multiples you desire. If you put 1 in the quantity box, you will be charged $100. If you put a 2 in the quantity box, you will be charged $200 and so on. If you would like to pay in full, you may do so at the link below.
Complete tuition must be paid in full before January 15th. School begins February 1st. Sometime between January 15th and February 1st, you will be notified about an orientation phone chat. This will help you prepare because there will be assignments due every week and you'll want to be ready to get started right away and know what to expect.  
We will put your name on a secondary roster and keep track of your payments. Once you will have completed your payments, paying your tuition in full, then we will create a folder for you and put you on the primary roster. You will then also receive your welcome letter, student information page link, private Facebook page and chat phone number (after November 15th). We will need time after the prior school year finishes to tweak the assignment page. 
Thank you for embarking on a wonderful journey into the realm of worship dance. May the blessings of the Lord overtake you!
Please take a moment to read some of the previous students' reviews of the course below. 
Click HERE to register in full. Please enter 1 in the quantity box and click Buy Now. Then it will take you through the normal check out process.
Words from some of the students who completed level 1

Participating in Pastor Lynn's Dance Minister's Course has been a wonderful growing experience for me.  I have been equipped with tools to begin moving forward with more confidence in the things the Lord is calling me to with dance. I am glad to have these resources to refer back to and I am sure I will often.  I am eager to share what I have learned with others as well. I definitely feel more prepared to be doing dance ministry in my church.  
I would definitely recommend this course to anyone that has a desire to worship though dance no matter what kind of background or experience they have in dance.  Pastor Lynn leads with integrity and has so much wisdom and expertise to offer her students.  She has created a safe environment for dancers to explore and grow in this calling.  
I look forward to moving forward in my journey dancing with Him wherever He may lead.  Thanks so much for your investment in my life Pastor Lynn.  God Bless you! - Kim - NC
---
This has been a very valuable class. I saw the wisdom and knowledge that Pastor Lynn has from the very first conference I went to. I bought one of each of the items knowing they would be wonderful tools for me to learn to dance. When I made the decision to take the class, I knew it would be a commitment, but had no idea of all there is to learn. Every subject studied in this class is something that can be used over and over again. With all of the variety of options that can be used the choreography can be endless, even for an inexperienced dancer like me. By the end of this school year I am finally beginning to see myself as a dancer that can express the passion and worship that has been bottled up in me. Thank you so much Pastor Lynn for making this available in DVDs and books so they can be referenced to keep the dance skills up and for fresh ideas. I would highly recommend this class for anyone wanting to worship the Lord with all their might in their private time or finding themselves leading a dance ministry. Suzi - FL
---
"Dancing for Him school has inspired me, given me connections, and helped me form friendships with dancing sisters and brothers that will last into the heavenly realms. I am stronger and becoming more disciplined in my technique as well. I have been encouraged that all my experience and wisdom and abilities have not been wasted. I have learned so much in how my God given talent and desire of my heart does honor, minister, and glorify Him. I would encourage anyone who thinks they are Called to Dance to take advantage of this awesome school and all the wonderful things Pastor Lynn Hayden has to impart." Kati - GA 
---
"I have thoroughly enjoyed this online worship dance school.  What I love about Dancing For Him On-Line worship dance school was the amazing support from Pastor Lynn and my fellow classmates.  I felt like we were a little family working together to accomplish a common goal which is really special in studying courses online.  I also love the fact that this school has opened connections for me to meet other worship dancers with the same heart for the Lord and the dance ministry.  I also loved learning the material and being stretched/challenged in my own choreography and being a teacher of worship art expression.  It has been an amazing school year which caused me to grow tremendously into my next level of creativity.  I cant wait to see what the Lord does next school year!!" Tyhisha - GA
---
My first year of the Dancing For Him Online Worship Dance School by Lynn Hayden has been the most amazing journey!
The videos have the best visual ever for demonstrations and activations. These videos are narrated by Lynn and very easy
to follow along and have filled in the gaps for me concerning tips and techniques. The books by Lynn have lots of  scriptures 
and the significance of what words mean pertaining to movement. The books are loaded with creative ideas for all your
choreography needs. The dance conferences are a real expressive and worshipful experience! I am looking forward to being
in my second year of Lynn's school and all the adventures it will bring! - Rhonda - TN
---
This course changed the way that I not only dance unto the Lord but how I minister as a whole. Each book that I have read and every DVD that I have watched and mimicked has enlarged my dance vocabulary  as well as my awareness of what Praise Dance actually does for the body of Christ. God has told me that this was my calling and that I will travel all over the world teaching dance, healing , bringing deliverance, and empowering others to use creative worship in dance. For me, it was hard for me to grasp because I didn't have any experience in dance technique and didn't know how I could do it, but I thank God for this course because Dancing For Him was God laying the foundation in my life for me to do what He has called me to do. By doing the video uploads and watching the other students uploads really encouraged me to be comfortable with who I am as a praise dancer and connect with other dancers who hold the same passion to minister unto the Father as I do in their heart. Upon completion of this course, I now have a thirst and a hunger to do the will of our Father. The things that I have learned include: dance technique, dance choreography  experience, dance vocabulary, a Biblical foundation of dance, experience in prophetic dance, how to bring creativity to praise dance ministry, team etiquette,  and just an overall comfort with allowing the Holy Spirit to lead while I become like a child and enjoy ministering before our Father. Through this course, the Lord has given me friends who share the same passion as I do and an opportunity to talk with them twice a month and to experience Dancing For Him ministry myself and to one day have the joy of joining with the ministry imparting the true awesomeness of praise dance all over the world.  
 I was inspired to bring the ministry that God was showing me on the inside outside to God's people. I was empowered to minister the Father's heart to churches all over Little Rock, Arkansas. I received the impartation from Dancing for Him Ministry in my spontaneity in dance enough to be bold in my gift of dance in order to do what God has called me to do. I have totally submitted myself unto the plan that God has for my life and I just thank you Pastor Lynn and praise God for giving you the wisdom and the faith to be obedient to His will for your life in taking Dancing For Him to heights the you could never dream or imagine. Ariesha - AK
---
Being a part of the Dancing for Him Training School has been a great learning experience for me. I knew taking this course would give me the spiritual dance training I needed to be a better praise dancer.  But, I did not know that it would also make me a more effective dance leader and trainer. Pastor Lynn's books and digital video disks helped me to be more creative with my choreographed pieces, and to simplify and modify dance moves to teach others with little to no dance experience. I especially liked the telephone conferences where I got to exchanged ideas with my classmates. The practice I received at a live conference under Pastor Lynn's anointing will never be forgotten. This program truly gave me the confidence I needed to dance and teach with excellence. I would recommend this course to anyone. Kim - NJ
---
I'm grateful to God for leading me to Dancing for Him Ministries. I have gained a wealth of knowledge from Pastor Lynn Hayden in the DFH School. Pastor Lynn is supportive, encouraging, and is available for DFH students through email and chats. 
The curriculum is easy to follow and assignments evenly spaced for sufficient time to complete. I have 31 years of dance experience, but the DFH School has helped me enhance choreography so that it is most effective when ministered. I have learned creative ways of expressing the heart of God through sign language, flags and billows. Creative worship helped me to understand how to coach my dance team to minister spontaneously and look unified. I've learned the foundational Biblical truth for God's purpose for dance. Thank you Pastor Lynn for your obedience, generosity, encouragement and support. You are an inspiration. Thank you to all DFH students for your support and advice. I am truly blessed to have all of you in my life. Alicia - NY
---
A few years ago I had purchased a few of Pastor Lynn's products and was longing to attend one of her conferences.  In May of 2012 I had the pleasure of attending the New York Conference. It was there that the online course was offered to the participants attending.  I was a little apprehensive about signing up due to other financial obligations. However, I kept feeling impressed in my spirit to do it. So I did and when I received the products I was really excited to start, until I received the syllabus. Then I said to myself "What in the world did I get myself into?" Even though it was an online class it required a lot from an individual.
I must say though, now that I am at the end, this was a great investment. The classes that we took covered such areas as Technical Dance Training, Biblical Foundation, and Creativity Enhancement. I believe this online class has developed me as a worship dancer. I have used some of the information learned in the classes such as creative flow, a word from "Dance, Dance, Dance" and I am in the process of teaching the flag terminology to my dance team. I have grown spiritually and have become more creative in my choreography. If any dancer is interested in growing and going to the next level in their dance ministry, this is definitely the course for them. Natalie - NY
---
Pastor Lynn  has developed  and designed a program that will explore the reasons why you should study the ministry of praise dance. This course is designed to give you a well rounded religious and biblical foundation of praise dance. The course also goes though a series  of strategically  developed DVD's that are designed to build up, increase and expand your dance repertoire. Another point that stood out to me during my studies was when viewing the DVD's, Pastor Lynn included  many of her students that participated in the workshop. This gave a realistic view on how to administer the steps to the dancers.  
If you are serious about the  ministry of  praise dance, and if you  want the questions answered of the 'what, why  and how'  of  praise dance ministry, Then  Pastor's Lynn  has designed this course of study that will not only answer these questions, but also help you grow as a praise dancer.  Treva - NY
---
Once you've had something stir inside of you and you can sense that dancing fits and that you'd like to give it a try, I'd recommend the Dancing for Him Ministries certificate course.
The exercises that you work through in this yearlong course will grow you as a dancer and intercessor and you will be amazed at your progression. As you go along your yearlong journey you are connected to, mentored, and encouraged by Pastor Lynn Hayden an anointed teacher, dancer, and leader.  Going over pilates, ballet, modern dance, and stretching DVDs, I seemed to develop more energy and endurance.  I was excited about the growth in being able to put together choreography, especially on short notice, for praise and worship services for my church.  Most importantly, I recognized that when doing the course work of the Awakening Passion, Creative Worship and Perfume of Fire DVDs that I gained knowledge of the scriptural understanding that support dancing, giving me a stronger biblical foundation for dancing. I sensed that I was being released and confirmed to dance before the Lord. Overall I'm becoming more comfortable and confident dancing for myself and for God.
Having danced for the Lord as part of several praise ministries for over 10 years, without the benefit of the training I've gotten in the Dancing for Him course, I can honestly reflect on how much of what we as a ministry did was trial and error. Even though our ministry prayed over decisions, bonded, and did a lot right, so much extra work, disappointment, embarrassment, and frustration could have been avoided. When I consider all that was lost in our processes of trial and error as a ministry, it would have easily covered any investment in the Dancing for Him course. The foundations learned from the course would have come in handy. I can honestly say that going through the Dancing for Him course is a truly worthwhile blessing on so many different levels. Lisa - OH
---
'I feel that taking this course was one of the biggest victories and challenges I have had in my ministry yet….since I have so much responsibility it was something that I knew I needed to do since I would gain so much from networking with the other woman in similar ministries.  As I stepped out to do it I found I had to kick out of the way every obstacle that came along….and it wasn't so easy – but actually had to allow God to remove those obstacles – because in fact it was probably actually areas in me that had to be worked on and work out so that I could properly focus.  From taking this course it has helped me to re-focus back to the calling that the Lord had placed in me and help me to overcome all the fears I had – even in my position of leadership I had insecurities that now I can humbly speak of and share with other leaders with a manner of humility I pray that I have developed.   So thank you for being faithful over all these years and so disciplined to put down into paper and video resources and keep on going!  You are greatly appreciated!"  Colleen - Canada
---
 I would like to express how much I have learned by studying through this course.  In such a short period of time, I have advance in my knowledge first with the word of God.. and then that of dance.  As I study each lesson I could see an increase in my word vocabulary of dance movements.  I have gained a sense of freedom to be creative in my dance.   I really enjoy the step by step instructions provide.  Your teaching through a video had such a touch of warmth and compatibility to it that I was always able to stay on task to what you was teaching.  The reading material was a great supplement to the videos and for my dance team.  I also believe having us attend a conference is a great idea because it  emphasizes your teaching course.  The experience I had at both conferences will forever remain priceless in my heart. This teaching as placed me right where God wants me to be.  I look forward to Level 2 I'm soooooooooooo glad there will be deadlines. Tina - PA
---
There are more comments on the level 2 page.