Break Every Chain - Worship Dance Conference - Bronx, NY - June 6-7, 2014
Break Every Chain
June 6, 2014 to June 7, 2014
A Dancing For Him Worship Dance Conference
Hosted by:
Spirit of Worship Dance Ministry
Harvest Fields Community Church
Pastor Mitchell Torres
Bronx, NY
There is power in the name of Jesus to break every chain! Come experience God in an intense, life changing way. Be set free to dance before Him with full and total abandon while learning techniques to help your dances minister most effectively. Come experience the intoxicating, overpowering presence of God and go home with not only fresh ideas, but changed!
Video to the right is from the last NY conference we had at this church in 2012. It was an awesome time in the Lord!
**** Please note: There is still some room in the conference, but the Saturday night dance concert is now full. Meaning, there are enough dances to present. There is plenty of room to come and watch the concert.
Friday and Saturday evenings will be free and open to guests, friends, etc. A love offering will be received.
You may still register for the conference. Once the conference becomes full, the notice will be posted here. Register now while there is still room!! Blessings!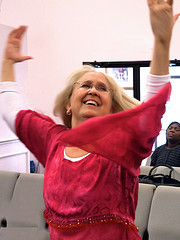 Come, let us experience this deep place of worship where life-changes happen. We will see a transformation not only in our dance, but in our selves...Come, let us worship Him together. Then go home not only with fresh ideas, but changed...
Would you love to learn many aspects and concepts of worship/expressive dance?
Would you love to learn some fresh movement and choreography ideas?
Would you love to receive ministry through and be activated in prophetic dance?
Then this conference is for you!
Conference Information
Subjects Covered
Come, receive prophetic dance ministry, get renewed and refreshed. Come and let God transform your life! Subjects include:
Active Word Study
Billow Cloth Beauty
Purposeful Pageantry
Creative Worship
Expressive Worship & Sign
Artistic Worship/Ministry
Weapons Of Warfare/Movements of Breakthrough
Unity In Motion/The Corporate Move
Stretch & Adoration
Ballet Basics
Modern or Contemporary Dance
Team Tips/Talk Time
Choreography Technique
Learn at least one Reproducible Dance
Dance Composition
Prophetic Dance/Ministry
Participants' Concert
and More...
Click here to read more about the various classes
Also note: although we encourage entire teams to come, individuals are more than welcome to come by themselves. So, you do not have to be a member of a team to attend.
Basic Schedule
Friday
8:00 - Sign In/Worship/Prayer
9-12 - Classes
12-1:30 - Lunch Break (on your own)
1:30-5 - Classes
5-7 - Dinner Break (on your own)
7-8:30 - Artistic Worship & Ministry
Saturday
8:00 - Artistic Worship
9-12 - Classes
12-1:30 - Lunch Break (on your own)
1:30-5 - Classes/Ministry
5-7 - Dinner Break (on your own)
7-8:30 - Participant's Concert (see below to sign up your team's presentation)
* On rare occasions the concert will be on Friday night. If so, you will be notified by email.
Concert
The participants' concert is always a highlight of a conference. It is where you get to present a dance that you or your group will have already done at your church and share your gift with the other participants.
Space for participation in the concert is limited to the first 12 individuals, groups, or teams who desire to be in it and are fully registered.
What To Wear/Bring
Comfortable, casual, modest clothing for active movement. Dance shoes (ballet or jazz) or socks or bare feet would be good for the actual dance classes and choreography. However, it would be advisable to wear or bring comfortable supportive shoes for long days on our feet.
Water bottle with tight fitting lid (no other food or beverage allowed in the hall).
Flags and other worship instruments. There is plenty of room to move and express! If you don't have any flags to bring, don't worry, there will be others to borrow. If you do have extras, please bring them so that those who do not have any may use them. Thanks.
You may want a light jacket or sweatshirt for the restaurants and/or air conditioning.
The DFH product table will be there with all the products at lower-then-bookstore conference prices. There will be a 'special price surprise' on a one of every DFH product package. Also, some of the music that will be used during the workshop may be available for sale. So you'll want to bring MC, Visa, AM Express, Discover cards, cash or checks with you to the hall. You'll want to take advantage of the opportunity to enhance your worship dance resource library.
Absolutely NO video taping allowed during the conference. Most of the teaching and dances will be available at the product table. However, photograph taking is strongly encouraged.
On rare occasions, we'll have Dancing For Him T-Shirts or garments available for sale. If we do, we'd like to know your size preference. Please select a size in the T-Shirt/Garment Size drop down list on the particular check out page.
Location
Harvest Fields Community Church
2626 East Tremont Avenue
Bronx, NY 10461
Contact Information
Conference Information:
Local Information:
Cost
Includes admission to all the classes...
$84.00 - Individual - Received on or before May 6, 2014 - Early Savings Date

Groups of 5 or more - $77.00 each**

$99.00 - Individual - Received on or before May 23, 2014 - Regular Rate

Groups of 5 or more - $92.00 each**

$114.00 - Individual - Received on or before June 6, 2014 - At The Door Rate

Groups of 5 or more - $107.00 each
See below for several ways to register.
Children
The conferences are primarily geared for adults. There will be no children's classes nor child care. Children under 12 are free. However EACH child under 12 must be accompanied by a fully registered, participating, responsible adult (18 or older). The child's parent/guardian must read and sign their waiver form or agree to it by electronic signature. Due to the largely ministerial nature of the conference and two very long days on our feet, we ask that you consider the attention span of your child before registering them. There will be no sideline mothers for any youth. Thank you.
Terms
The amount of registrations, offerings, support, etc., is absolutely non-refundable. Nor may it be applied to another conference, or transferred to another person. If for some unforeseen reason, regardless of the situation, you will be unable to attend, your tax-deductible registration will be considered a love gift/donation to further the work of God through Dancing For Him Ministries. Thank you. NO one-day rates available. We encourage you to attend the entire conference or as much of the conference as you are able.
Several Ways To Register
Thank you for your participation. May the blessings of the Lord overtake you...
We'll see you soon!!